BACK ROW : Chris Tanski
2ND ROW : Jeff Konopka, Terry Callen, Kristy Jett, Myself, Jen, Eva Cox
FRONT ROW : Bill Adock, Zach Shildwachter

I'm still recovering from the almost surreal couple days I just experienced, thanks to the double night/double feature Fright Rags hosted at Rochester, NY's Dryden Theater this past weekend. Seeing movies like The Monster Squad and The Fog on the big screen was awesome and meeting Tom Atkins and Fred Dekker was perhaps even cooler, but the real highlight of the weekend for me was hanging out with so many talented people from the horror community that i've known through the internet for years, most of whom I got to meet for the very first time. Well, that and finally getting to taste my very first garbage plate. It was a weekend I will cherish memories of for the rest of my days on this planet and I cannot thank the Fright Rags crew (Ben Scrivens, Tim Kilmer and Kristy Jett) enough for making it happen. I will now attempt to relive this most awesome of weekends through the power of the typed word.

**CLICK ALL PICTURES TO SEE THEM FULL SIZE!**

FRIDAY

Jen and I headed out to the city at 5 in the morning to pick up Zach Shildwachter and his girlfriend Eva Cox. Zach is the dude who runs Z For Zombies and also writes for The Blood Sprayer, the latter being the place he just posted about the weekend through his eyes. I had known Zach for a while through the internet but never met him in person, which honestly made me a wee bit nervous about spending seven hours in a car with him. I've talked with him enough in the past to be pretty certain that he was a better road trip partner than Rutger Hauer, but I was mostly worried that it would be a silent and awkward car ride, which thankfully turned out to be just another one of my stupid fears. The four of us got along incredibly well right from the get go and the fact that we had never met one another gave us all a ton of stuff to talk about. Zach works in the city on film sets, doing production assistant work and things of that nature, and I picked his brain for the majority of the ride up. He had a ton of cool stories to tell and made me pretty damn jealous of what he gets to do for a living, even if he sometimes gets stuck working more than half of any given day. Zach was 2nd 2nd assistant director/an uncredited body double for Larry Fessenden on I Sell The Dead (which he graciously gave me an original comic book draft of) and he recently worked on the Tom Savini flick Sea of Dust. Suffice to say, he's doing some pretty cool shit with his life and he's doing it with the full support of his awesome girlfriend Eva.

Proving that a road trip is just not a road trip without a little bit of trouble, our rental car got a flat tire when we were just about two hours outside of Rochester, which ended up being a fun little adventure. The car came equipped with a spare, a temporary one that should only be driven on for about an hour, and Zach flexed his manhood by putting it on while I sat back and watched, flexing my severe lack of manhood. Thanks to the trusty GPS my dad lent us, we found our way to a repair shop where we had the original tire fixed. I am proud to say that, with the coaching of Zach, I removed the spare tire and put the new one on all by myself, making up for my lack of initiative earlier. As Zach pointed out, this is the moment when the road trip became a field trip, with fun and education blending seamlessly.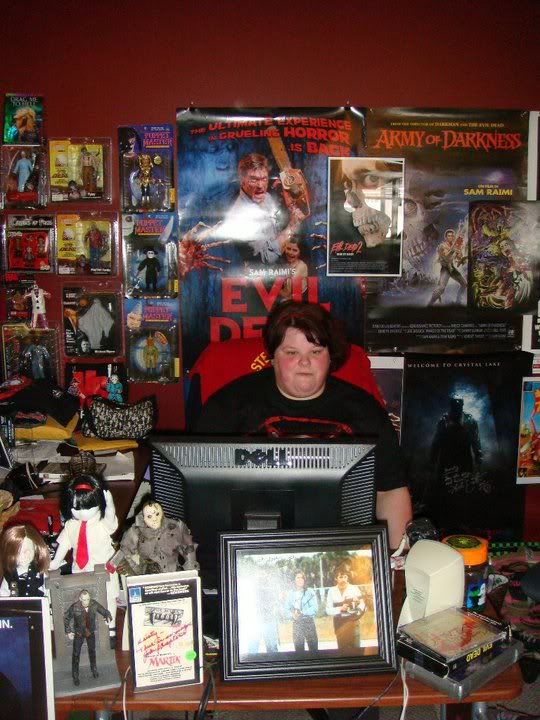 Kristy hard at work

About two hours later we arrived in Rochester, at the Fright Rags offices, where we were greeted by one of my favorite people on this planet, Kristy Jett. Kristy and I have been friends and pseudo siblings for a while now and she was the one who really rallied all the troops together for this event - I don't call her the Queen of Networking for nothin'. Kristy is absolutely the nicest and sweetest gal around and she just recently started working full time for Fright Rags, a dream come true for her. As Zach and I discussed as we were watching her at work, sitting behind the coolest work space on the planet Earth, it's so rare that you see someone doing exactly what they want to be doing with their life, and Kristy is the personification of that. She's doing what she wants to be doing, she loves doing it, and she does it incredibly well. Watching her at work, you get the sense that she is right where she belongs and it's truly an inspiring thing to witness. Kristy, I don't say this often to people, but I love you and I am so happy for you and so proud of you for living the life you want to live. I'd say i'm jealous, but instead of sitting back and being jealous of what you're doing, I will instead choose to use it as an inspiration for myself to follow in your footsteps and do what it is I truly want to do. There is nothing more powerful than seeing someone living out their dreams and this is one girl who's going places in life.

When we arrived, Kristy was also with Terry Callen, the incredible artist who runs Screaming Brain Studio. Kristy put me in contact with Terry several months back about bringing to life an idea I had for a t-shirt, which I proceeded to never call Terry about to discuss. I'm not really much of a phone guy, as Kristy can attest to, which probably explains why I never called him. Turned out that Terry was one of the coolest and funniest dudes i've ever met and we ended up having a lot of fun together over the course of the weekend. We quickly became drinking buddies and i'm pretty sure he'll now be getting a call from me real soon. Terry often makes it out to the Monster Mania conventions and I can't wait to hang out with him again next month. Check out his shop for some kickass t-shirts and various different art pieces.



Zombie portraits of Tim, Ben, and Kristy



The Fright Rags VHS wall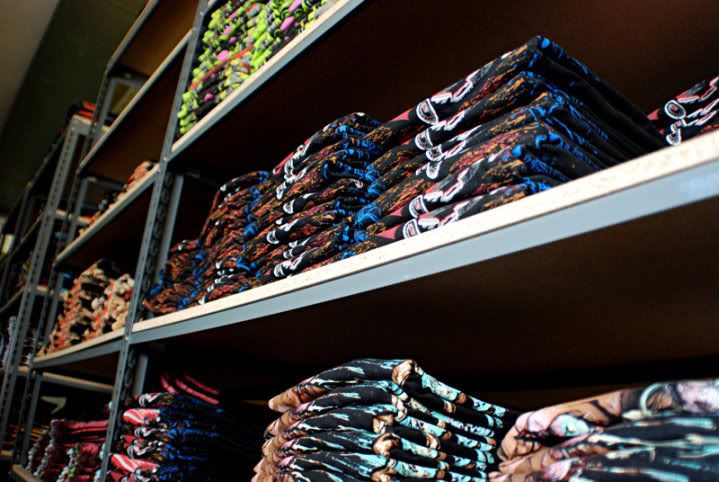 The shirt warehouse

After touring around the Fright Rags offices for a little bit, Kristy took us out to one of her favorite eating spots for garbage plates, something Rochester is famous for. A Rochester garbage plate is essentially a mismash of various different treats, including hot dogs, hamburgers, mac & cheese, and home fries, all sloppily thrown together on one massive plate. It's the ultimate drunk food and proved to be pretty damn delicious even in my sober state, though I will admit it gave me a little bit of stomach pain later that night. As I believe Terry described it, the food basically sits in your stomach like an anchor, until your body finally decides to expel it out. Kristy had been telling me about garbage plates for a while and i'm happy to say I can finally cross one off the bucket list.

More than satiated from our meals, we headed back to the offices for a few more beers and then over to the Dryden, for the first night of double features - The Fog and Halloween 3 : Season of the Witch, with Tom Atkins in attendance. The Dryden is a beautiful theater and it was here that we joined up with Bill "Gummy" Adcock and Chris Tanski. I had previously met and hung out with Bill, master of trash cinema and owner of Radiation-Scarred Reviews, but this was my first time meeting Chris, a friend of Kristy's who i've chatted back and forth with many times on the net. Again, as with everyone from the horror community that I met during the weekend, these guys are awesome and I could honestly listen to Bill talk about bad movies for hours - his knowledge about them is astounding.




First up was The Fog, which was intro'ed by Atkins, who then did a Q&A following the film. I always seem to forget how awesome The Fog is and this viewing really made me realize that it just might be my favorite Carpenter flick of all time. After a brief Q&A session and a break, it was time for Halloween 3, a severely underrated film. I've said it before and i'll say it again - Halloween 3 is a hell of a movie and if it was just called Season of the Witch, without the Halloween moniker, a heck of a lot more people would be in agreement with me on that. People just can't seem to get over the fact that Myers isn't in it, but thankfully it seems like a lot of people are starting to realize how whacky and fun of a movie it is. It's got cult classic written all over it and listening to Tom Atkins talk about how silly and out there it is was a real blast. Though he seemed kinda reserved during the post Fog Q&A, Atkins really came alive during the Halloween 3 one, telling all kinds of hilarious stories that really got the audience worked up.

After the screenings, Kristy, Tanski, Sean (the owner of one of my favorite companies, VHSPS), Bill, Terry, Zach, Eva, Jen and myself went to local diner to grab some food. It was during this late night meal that I realized these guys have such an extensive collective knowledge of cult cinema (especially Sean) that even I felt quite a bit out of my element. After some tasty breakfast food, our ragtag group of horror fiends went back to Fright Rags Central and watched Return of the Living Dead, before finally getting some sleep, on the floors and various couches of casa de Fright Rags.

SATURDAY

This sleep did not last long, as we had a big day ahead of us. We got up around 8 in the morning, after a brief nap, and went over to Jordan Garren's hotel room. Jordan runs B-Movie Film Vault and he and his girlfriend were kind enough to let all of us into their room for showers. After getting spruced up, we got some breakfast at Tim Horton's, a place we became quite familiar with over the course of the weekend, and then returned to Fright Rags to prepare for one of the most fun events of the weekend - the photoshoot.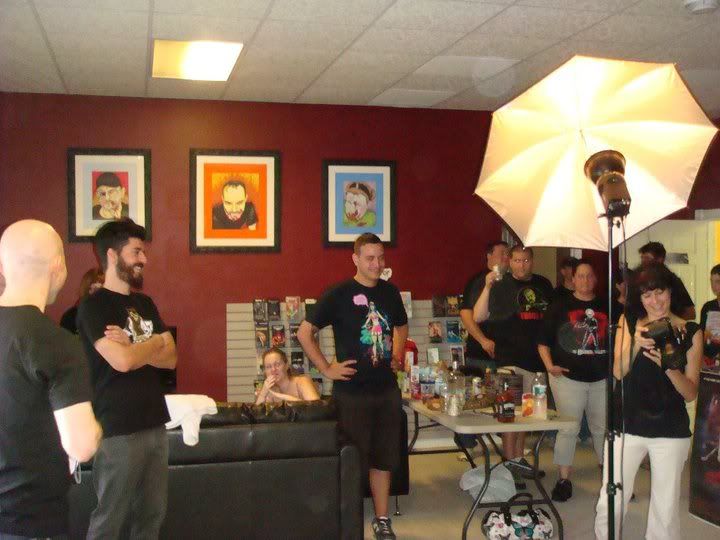 The Fright Rags website is getting remodeled soon and Ben, owner of the company and the coolest boss ever, wants to have images of each of the shirts being worn. Realizing that this weekend was the perfect time to get these pictures, with so many figures from the horror community assembled in one place, he hired a professional photographer to do the job. I gotta admit, this was incredibly nerve wracking for both Jen and myself, being that we're naturally kinda shy and don't like being put on the spot, but after a few beers we came to have an incredibly fun time and totally relished in the once in a lifetime event. I have no idea how these pictures turned out or if they're even gonna be used, all I know is that the photoshoot gave us all a reason to party and it was one hell of a party, which most of us ended up paying for later that night. Somewhere out there, there are pictures of me wearing a Pennywise shirt, with a piece of red paper serving as a clown nose and red lipstick on my teeth serving as blood, as well as ones of me sprawled out on a couch, doing my best Elm Street kid impression, and i'm equally excited and terrified of seeing them. I am so glad I didn't chicken out and got involved in the photoshoot, because it ended up being one of the major highlights of the weekend. It was at this shoot that I met the precious Sara "DANGER" Micari, some of the dudes and gals from Rue Morgue, Jes Karakashian - the talented girl with incredible taste in men that painted the Fright Rags crew as zombies (seen above) - and Jason Edmiston, the genius behind the mind blowing Night of the Creeps/Monster Squad art you will see in a second. Coolest of all, we were allowed to keep all the shirts that we modeled, so i've got several new additions to my already Fright Rags heavy closet.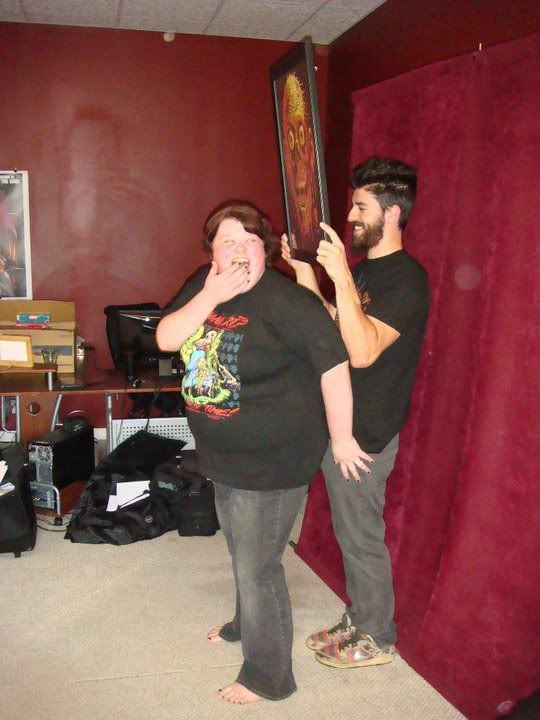 Trying to elicit a scared reaction out of Kristy, I pressed my crotch against her and told her I was naked behind her




Good and drunk, it was time to head back to the Dryden for night two of the event - a double feature of The Monster Squad and Night of the Creeps, with Tom Atkins ahd the director of both, Fred Dekker, in attendance.




Seeing Monster Squad on the big screen with a rowdy audience of fans was epic, being that it's such a fun movie, and seeing Night of the Creeps up there was also awesome for me, because this was actually my first viewing of the film. Needless to say, I now get where all the love for it comes from. Much like the first night, there were Q&A's after each film, with Dekker flying solo after Squad and then being joined by Atkins after Creeps. Again, these were a heck of a lot of fun, with both guys sharing some cool stories and Dekker voicing his honest opinions about the Monster Squad remake - he said that Universal Studios allowed him to use the likenesses of their monsters because they didn't really care back then, but he doesn't think they will ever allow that to fly these days. Dekker was a pleasure to listen to and I can't wait to see what he does next - he mentioned that he just wrote a sequel to Cliffhanger. Atkins is, of course, one of the coolest dudes out there - his various on screen personas do not lie. At this second night, I met the other two horror bloggers that came out, Jeff Konopka and James Sugrue of Fear of the Dark - Jeff, I think I need to drink with you sometime.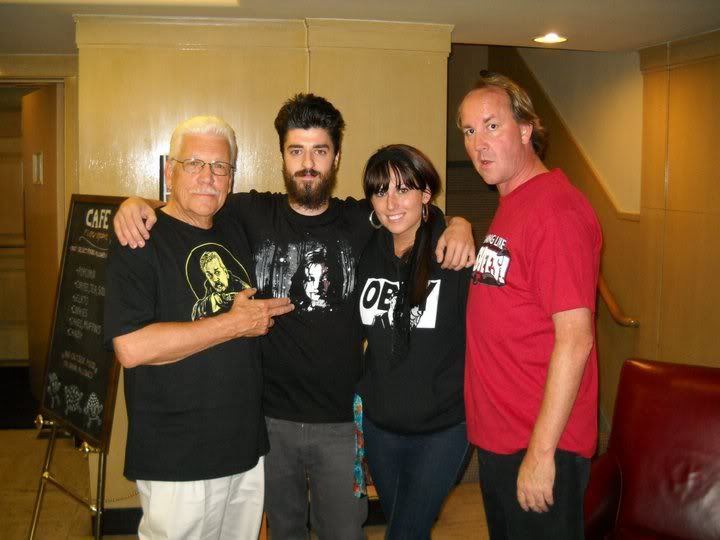 Atkins, Me, Jen & Dekker

After the movies I finally got to meet both Dekker and Atkins (my night was made even more epic when, upon leaving, Dekker passed by me and said "Thanks for coming out, John" - total Jingle All The Way 'He knows my name!' moment), and I had Tom sign the Jason Edmiston poster I picked up (it already came pre-signed by Dekker and I had Jason sign it earlier in the night). This is one poster that I will be getting a serious frame for and hanging high and proud in my home. If you were not at the events, you still have a chance to get both of the posters that were made up for the event, signed by Atkins and Dekker respectively, although they're in very limited quantity and are dissapearing at a rapid rate. Head over to Fright Rags to do so and also be sure to check out the Creeps vs Monster Squad shirt they just made available.

We were all pretty tired after this and returned to Fright Rags, ready for bed. However, it turned out that sleep was not in our immediate future. We returned to a building packed with pretty much every familiar face from the weekend and while I would normally have loved this, I was so tired and worn out from a lack of sleep that I honestly just wanted to go to bed. As much as we would've loved to drink and shoot the shit with all the awesome folks packed into the room, Jen and I ended up going out to the car for a while to catch up on some sleep. The party didn't last much longer, as everyone was totally beat, and I unfortunately did not get the opportunity to say bye to some people - mostly everyone had cleared out by the time we awoke from our power nap. Missing out on this little party is my only regret of the weekend, but when you're tired you're tired and you really can't force yourself to not be. I did my fair share of partying during the day so it was only natural that I couldn't hang with the big boys at night. To those who I missed saying bye to, I apologize and I hope that next time we get together i'm a little more well rested.

SUNDAY

Eventually, we finally got some real sleep, which only lasted a few hours before we found ourselves waking up, saying our goodbyes, and heading back out on the road and back to our mundane daily lives. Not much to speak of regarding the drive back home - it consisted mostly of sleep and Howard Stern - so I guess this is just about the end of the virtual journey through one of the best weekends of my life. If you've made it all the way through this, I thank you for reading!

Ben, Kristy and Tim, I again say thank you for putting this all together, for giving us all a reason to come out and meet one another, and for making us feel so welcome and at home in your neck of the woods. And thank you Fred and Tom for coming out. I think I speak for everyone when I say that we all had the time of our lives. The horror community is where I belong and this past weekend was further confirmation of that fact.