I got an e-mail sometime last year from one of my readers, Dustin Sain, who noticed a striking similarity between the posters for Dream Warriors and Zombi 3 - read all about it here. Proving that his keen eye was no fluke, I just got another e-mail from Dustin with yet another interesting poster ripoff, with Lucio Fulci once again borrowing from an American horror film. Take a look at the poster for one of Fulci's most well known films, House By The Cemetery.




Notice anything that looks familiar? I didn't either until Dustin brought it to my attention. Now check out this very famous still photo of Jack Nicholson from The Shining.




Yep, that's a zombified and stylized version of Jack Nicholson atop the House By The Cemetery! Is it just me or does that make the poster infinitely cooler? If you're not convinced that that is indeed Jack, Dustin gradually overlaid the two in Photoshop to make it clear.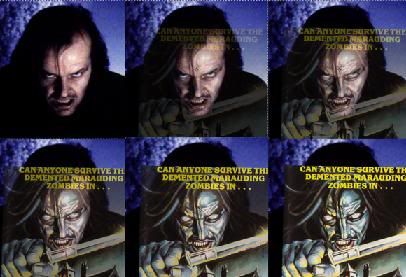 How cool is that? To the best of my knowledge, Dustin is the first one to notice this, as I can't find anyone else on the net talking about it. Considering many have compared House By The Cemetery to The Shining, the latter of which is believed to be an inspiration for the former, i'd have to say this was a clever little homage on the part of Fulci - so clever that it took a hell of a keen eye to discover it! Well done, Dustin, well done. Can't wait to see what you discover next!

Speaking of Mr. Sain, I featured his humble abode in the first installment of Horror Cribs, which you can see here.