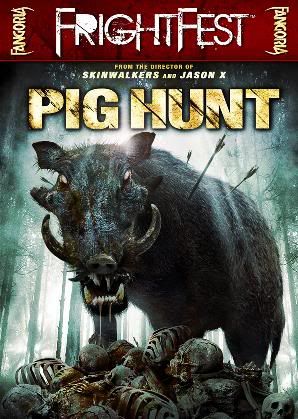 A group of soldiers decide to go on a legendary hunting weekend - obsessed with the pursuit of a mythical and murderous three-thousand-pound man-eating wild boar! The adventure turns into a nightmare when they run into a group of throat-slitting Cult Girls who worship the Killer Pig.

Pig Hunt has become a thing of legend at my job for the past week or so, for obvious reasons - the cover art and plot you see above being the main ones. I work in the same complex as a Blockbuster - the only place that currently has the Fangoria FrightFest flicks in stock - and myself and a co-worker of mine have been trying to get our hands on a copy of the disc, which has proven quite difficult. It seems the badass cover art has lured many a Blockbuster customer in, which has left the row of 10 or so copies of Pig Hunt totally empty ever since it was released last week - such is the power of a good cover. I finally was able to get my hands on a just returned copy today and i'm very dissapointed to report that not only is the cover art quite deceiving, but it's also the best thing about the entire movie, as is the case with many a horror flick both new and old.

While not a terrible movie, Pig Hunt suffers from a serious case of improper marketing, which makes it quite dissapointing for people like myself who are looking to see a bunch of people get slaughtered by a massive boar - gee, why would we think that?! For whatever reason, the boar itself really doesn't play much of a part in the movie, showing up only twice to kill two people totally offscreen, and you never even see a glimpse of it until the last couple minutes of the film. Once you do see it, it admittedly looks pretty cool, but it's too little too late at that point. A lot of time and money was clearly poured into making a kickass looking non-CGI beast and yet it was barely even utilized in a movie where it is allegedly the star - what the fuck is up with that?! All I wanted to see was that goddamn Pigfoot tearing motherfuckers up. All I wanted was a wild and gory fun time. I got neither of these things and i'm not happy about it. Oh and about those 'throat-slitting cult girls', they don't really play any part in the movie until the last couple minutes either. So what the hell is Pig Hunt about then, you might be asking yourself? The majority of the runtime consists of a group of jerkoffs and a group of inbred rednecks battling it out - if I wanted to see that, I would've watched a movie like Wrong Turn, not a movie with a big ass screaming boar on the goddamned cover!! Essentially, that boar only serves as a way to get a bunch of people in the woods so they can kill one another, making this film a bore of a different kind. It was a total let down, but I still find myself wanting a full sized poster of that cover art image on my wall. And I will say that if you can look past the fact that the movie doesn't deliver on pretty much everything it promises (which I could not), it's not a bad little inbreds gone wild flick.

Fun Fact : Pig Hunt has been available on Region 2 DVD since October of last year.