As promised, I will be viewing all eight of the 2010 Fangoria FrightFest flicks these next couple weeks and letting you guys know which are worth your time and which you can save your money on. First up was Dark House and tonight we take a look at another one of the ones I was most excited about seeing based on the trailer, Road Kill.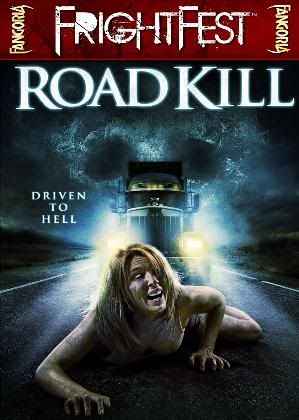 Four young friends on a camping adventure are run off the road by an erratically driven road train - a massive three-trailer truck. With their own vehicle wrecked and the road train stopped, the friends march off to vent their anger at the driver. But the truck is empty. Suddenly, the silence is broken by the sound of gunshots. To escape, the friends commandeer the road train. What they discover inside the vehicle's trailers proves more terrifying than anything out there on that lonely road. The next town is only three hours away, but will they reach it?

The Australian answer to hellish road classics such as Duel and Maximum Overdrive, Road Kill is without question the most frustrating horror flick i've seen this year. I say this because throughout much of its run time, it is a thoroughly engrossing ride, visually striking and packed with good characters and not one but two great villains - the uber menacing and eerily alive Road Train and the road itself. My eyes were literally glued to the screen for much of it, having no idea exactly what I was experiencing but eagerly awaiting the answers to all of the questions that were popping up in my head. Unfortunately, these answers never really came and the whole experience was ultimately rendered a pointless waste of time. What began as an original edge of your seat thrill ride ended up fizzling out into a drawn out neverending tale of pointlessness that felt a lot longer than it really was. It's got some cool elements and presents some cool ideas, but it just goes nowhere with them and for that reason, I really can't recommend the flick to anyone - which is not something I can often say for a movie that I was so mesmerized by for so long. It was as if this Road Train just had nowhere idea where it was going. Ultimately, it's a train wreck - you may not be able to look away from it, but you're left wondering why you didn't.

By the way, little interesting fact : Dean Francis, director of Road Kill, played a dead body in the original James Wan short film which became the feature length Saw!

All of the Fangoria FrightFest films are currently available exclusively at Blockbuster and will hit all other venues September 28th.