It's giveaway time once again here on Freddy In Space and in order to win one of the three prizes up for grabs, you're gonna be forced to choose between three of the most well known horror villains of all time! But first, a little bit about the artist and his work.

Eric Swartz is an incredibly talented artist I met on Facebook a few weeks back, who has a self described "twisted obsession for horror films". Residing in Hollywood, California and drawing huge inspiration from the art of Basil Gogos, Eric focuses his talents on portraits of popular figures from the world of horror cinema. Eric's illustration of Angela Bettis as May is the one that first turned me on to his work and i'm happy to say that a print of that illustration now hangs proudly on my wall. But we're not here to talk about May, we're here to talk about much more sinister and far less cute horror hackers - Freddy Krueger, Jason Voorhees and Leatherface. It is 8x10 prints of these three icons that Eric has generously donated for a giveaway this week and each of those prints will go to a different winner, ensuring that not one, not two, but three lucky readers come out of this one smelling like roses! Check out the three prints up for grabs below and then find out how you can put your name in the running!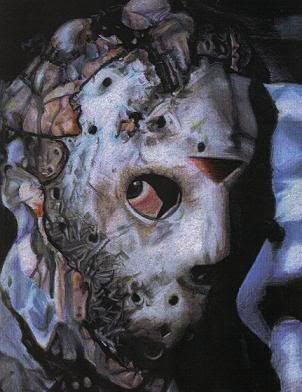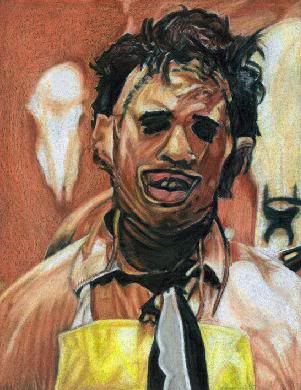 All you've gotta do to enter is leave a comment below with your e-mail address and which of the above three horror villains is your favorite - it will be this choice that determines which print you will receive in the event that you win. Deadline for entries is one week from today, Monday the 23rd, so get your entries in by midnight on that date to qualify!

Good luck to all and a huge thank you to Eric Swartz for donating the goodies. Check out all of Eric's work at his website, The Art of Horror. Prints of all of his portraits are for sale so if you want anything, don't hesitate to contact him!