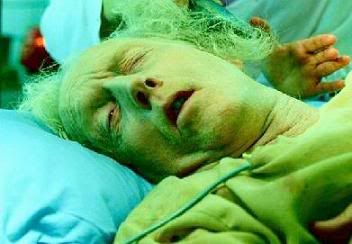 A couple weeks ago, I stumbled upon a site called The Official Saw Store, which has up for sale tons of props from the various films in the Saw franchise as well as autographs from many of the stars of the series. While a lot of the cooler stuff is, as one would expect, fairly pricey, they have a little $9.99 section with some pretty cool discounted goodies in it. One of those such pieces was a lock of Jigsaw's hair from the brain surgery scene in Saw 3. This is one of my favorite installments in the franchise and that scene is perhaps my favorite of the entire series. Armed with this knowledge, I expect that you won't be too surprised to hear that I just had to have one of these clumps of faux hair.

Here is my very own baggie of Jigsaw's hair, one of only seven in existence, and complete with a Certificate of Authenticity!




It appears as if the things in the $9.99 section, although still referred to as a $9.99 section, are now $14.21 each, but that's still a pretty good deal for some of the stuff in there. Head over to the site and browse around - I bet you'll find a little something ya like! Apparently for a limited time you can get 40% off the already reduced prices by entering "GORDON" at checkout, but i'm not sure if that counts for everything or not.

Speaking of Dr. Gordon, the site reveals something that I wasn't aware had been made public knowledge yet. Though we all probably expected Dr. Gordon would make a long awaited return in what is billed as the final installment in the Saw franchise, the site has a banner at the top that reads, "DR. GORDON IS BACK! CARY ELWES PLAYS DR. GORDON IN SAW 3D!". I guess that about confirms those expectations!