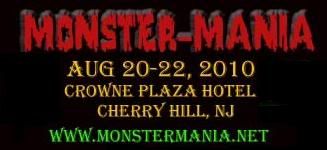 Horror convention season is in full swing and the first stop is Monster Mania 15, this weekend in Cherry Hill, New Jersey. Here is just a small list of things that are in store for me this weekend!

Fright Rags
Philly Cheesesteaks
Cheap Beer
Geofree Capodanno & Dan Petrucci
Kristy Jett
Pet Sematary Reunion (Zelda!)
Elevator Rides With Personal Heroes
Meeting New Friends
John Carpenter
VHSPS
Terry Callen
Free Goodies From Dread Central
Spending Far Too Much Money On Far Too Much Cool Merch

I LIVE FOR THIS SHIT.

I better get packing. See ya next week for a full weeklong recap of what is sure to be an epic weekend. And make sure to become a fan of Freddy In Space on Facebook, as that will be the spot where I will post little updates/cool goings on throughout the weekend!