She's been dubbed "the female voice of Freddy In Space" by the Soska Sisters - they of Dead Hooker In A Trunk fame. And she loves nerds. Tonight, Kristy Jett fuses the two together to bring Freddy In Space a list that would never appear on the blog without her. Enjoy!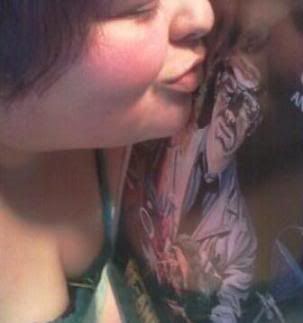 There is one thing that most all of my friends are painfully aware of ; I love nerds. I love boys with a brain, especially a pop-culture brain, who can sometimes be socially awkward and I love it most of all when they wear glasses (plastic frames are a definite plus)!

Since as far back as I can remember my hormones have driven me in that direction. I've been a Horror fan since the tender age of 4. Needless to say over the years I have found many nerds in the Horror films I love. What follows is a list of the 10 Horror movie nerds I would gladly invite in for a nightcap.

In no particular order...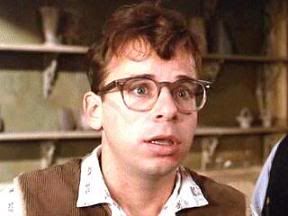 Rick Moranis as Seymour Krelborn in Little Shop of Horrors

Rick Moranis was my first childhood crush. Judge me as you will, but to me, he's a fine piece of nerd. I would also rank his role as Louis Tully in Ghostbusters up there, though his role as Seymour is considerably more endearing and not nearly as obnoxious.




John Amplas as Dr. Ted Fisher in Day of The Dead (1985)

Who doesn't love a scholar? Growing up, I definitely always had the eyes for him, in his role as Martin the "vampire", and most definitely in his role as Dr. Ted Fisher, the bff to Lori Cardille's Sarah in Romero's third installment of his Zombie series.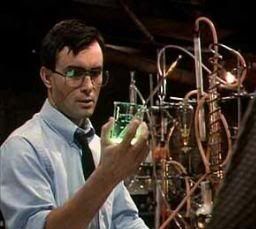 Jeffrey Combs as Dr. Herbert West in the Re-Animator series

Oh Jeffrey, how I have swooned over thee on numerous occasions! I have had a girl hard-on for him from the first time he coyly spoke of teaching a cat to tango! Herbert West may be a bit smarmy, but dammit why shouldn't he be?! He created life! And would I be going too far to say he can create life in me any day? Well, too late...I went there and i'm not coming back!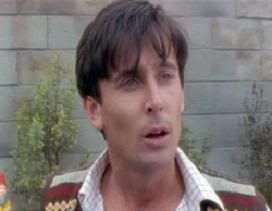 Timothy Balme as Lionel Cosgrove in Brain Dead aka Dead Alive

Lionel is a momma's boy, and he's insanely awkward - this is most likely where my attraction to him comes from. I have a dream where one day I date a guy who willingly dresses as Lionel to my Paquita for Halloween or some other sort of costumed event...one can dream, right?




Crispin Glover as Jimmy Mortimer in Friday the 13th Part 4 : The Final Chapter

Crispin Glover is at his nerdy best as George McFly in Back to The Future, this is true. However a historic nerd moment is truly born when he performs his "Dead F**k Dance", one of the sexiest albeit most awkward dances ever performed on the silver screen. He spends most of the film lamenting lost love and his want and innate need to get laid. All I can say is, I will gladly share a campfire with you Crispin.




Stephen Marshall as JC Hooper in Night of The Creeps

Let's not mince words here, if he weren't on crutches and wasn't always rocking those trendy beige vests, JC would have never been considered a nerd. Stephen Marshall was hot, still is. I can attest to this from having met him a few months back. But I will gladly claim him as a nerd, and in turn I will claim him for my own!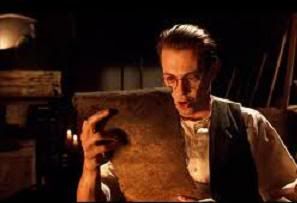 Steve Buscemi as Bellingham in the Tales From The Darkside Movie

I have this strange feeling that of all the nerds on my list this one will get me the most flack. Do I care? Not a chance. Yeah so maybe he had a mummy come back from the dead and do his bidding, but who doesn't love a guy who has that kind of power? I love that he goes toe to toe with Christian Slater and makes me warm with delight in the process.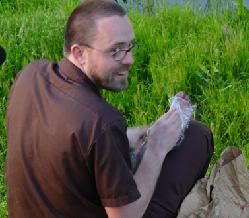 Lucky McKee as Roman in Roman

Now, this one is kind of a cheat, and I have to thank Jenny Spencer for reminding me of this one. Roman isn't technically just a nerd. He's a loner, to say the least. But there is something in his quiet cool and mounds of awkwardness that makes me weak in the knees. Lucky McKee is a fine looking fellow, and I certainly will always leave the light on for him.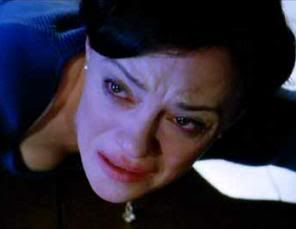 Angela Bettis as Ida Teeter in Masters of Horror's Sick Girl

I can't tell a lie, I think girls are cute. They're fun to kiss and to touch their boobs, though I'll be damned if the thought of vaginas doesn't freak me right the hell out, sorry. But if you don't find yourself fiending for Angela Bettis as scientist Ida Teeter in this Lucky McKee directed episode of Masters of Horror, then there is something wrong with you. She is vulnerable but strong the same way she is innocent yet sultry. She blows me away in almost any role I've seen her in, but this one takes the cake.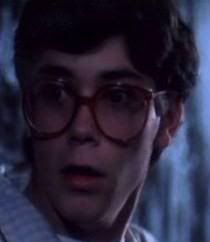 Ira Heiden as Will Stanton aka The Wizard Master in Nightmare On Elm Street 3: Dream Warriors

I suppose if there were to be a number one on my list, it would be Ira Heiden. I have had a crush on him since I first heard him geeking out on Dungeons & Dragons in Dream Warriors. His combination of unique voice, slim build and big, round glasses had me hook line and sinker. Sadly, in real life he's married so I'll never have my chance, but it doesn't mean i've never tried....