***For more pictures from the event, head over to this post***

As is usually the case with most fun events, horror conventions always seem to go by way too fast. One minute you are departing for the hotel, a departure you have been waiting months for, and the next you're arriving back home, wondering where the hell the weekend went. Never have I wondered this more than yesterday, coming back home from Monster Mania 15 in Cherry Hill, New Jersey. While we - 'we' being the ragtag group of myself, Jen and my parents - spent the entire weekend there, Friday afternoon through Sunday afternoon, I feel like we barely even got a chance to get settled in, which i'd have to attribute to the fact that we had so many people to hang out with and so much to do in such a short period of time. When I used to go to horror conventions back in the day, I would wander alone around the lobby, knowing NOBODY. Nowadays, I seem to know pretty much everybody in the hotel at any given point, and it's really awesome to see how much the place has become a second home to me and how many of those convention regulars have become friends of mine. It's truly a beautiful thing and a place I totally belong.



Jen & Myself

This particular convention experience was not filled with a plethora of celebrity encounters - I didn't party in Romero's room or do shots with Derek Mears, as I have in the past - but rather with hanging out with and meeting friends both new and old. Hell, I only met three of the stars there and only checked out half of one event! Most of my time was spent shopping around in the dealer room and hanging out in the bar with some of the coolest people on the planet. Truth be told, shooting the shit over a couple drinks with someone who shares the same interests as you do beats waiting on a line to get an 8x10 inked by John Carpenter anyday for me, no disrespect to JC.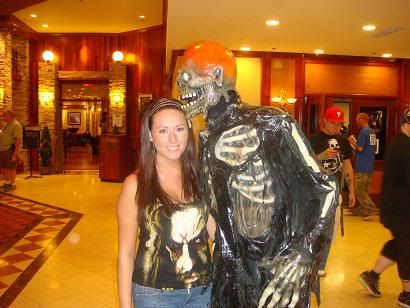 Jen and my favorite costume of the weekend, The Tarman

So while I don't have too many wild stories to tell this time, I do want to talk about the awesome folks I hung out with, the kickass merch I got, and the few celebrities I did get around to meeting, which I will split up into three seperate posts throughout the week. First, here's a general little overview of the weekend, which may be a little boring to some considering it excludes any celebrity encounters and all of the awesome goodies I purchased!

After a traffic filled 4 or so hour drive, and after picking up a bunch of beer from the nearby Wine Legend, we arrived at our home away from home at the Crowne Plaza Cherry Hill and were immediately welcomed home with open arms by Kristy Jett, who came up to our room, said her hello's, and then asked my parents if they'd adopt her - i'm pretty sure she is now my sister. It was a few hours before the 5 o'clock opening of the dealer and autograph rooms, so we had a few beers and got a bit settled in before heading down to pick up our tickets. The hotel lobby during Monster Mania is a place that I try not to enter without a few beers in my system, thanks to my nerves and general awkwardness. It's filled with my kinda people and I totally feel comfortable and at home there, I just need a beer or two to take some of the edge off and fully come out of my little shell. It's a lot to take in, no matter how many times you've been to the rodeo! Hm, the subject of beer is just about a perfect segue into Enter The Man Cave's Geofree Capodanno and his friend Dan Petrucci, two guys who snuck their very own mini fridge up to their room on Thursday night for the very purposes of having cold beers whenever they got thirsty!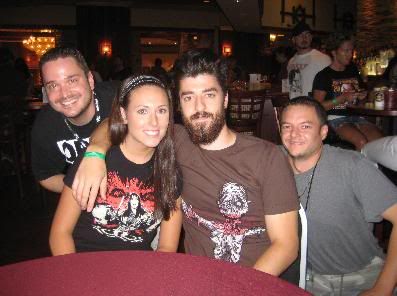 Geof, Jen, Me, Dan

We met up with Geof and Dan at the last Monster Mania and ended up getting pretty drunk with them, which caused us to miss out on several events and panels that day. But again, that's the kinda shit i'd rather be doing anyway, and we had a hell of a good time. Jen and I had been looking forward to hanging out with them again for quite some time and i'm happy to say we picked up right where we left off, without missing a beat. By the time we got there Dan was pretty trashed, so we all played catch-up in an attempt to reach the insane amounts of fun that he seemed to be having. I try to take it easy Friday nights so that i'm not hungover and feeling like shit come Saturday, but it pretty quickly looked like that mission was going to become a failed one. Jen and I grabbed our first of many Philly cheesteak's of the weekend, some delicious deep fried broccoli bites (get us that recipe Geof, please!), a couple Blue Moon's (in fact we ended up having so many that the hotel totally ran out of Blue Moon by Saturday!), and then the four of us headed into the dealer and autograph rooms, but not before Dan went up to their room two different times in an attempt to get his weekend pass - he was distracted by beer the first time and totally forgot to get the thing he went up there for. It's hard to convey this to those who haven't met him, but Dan is one hilarious dude who never fails to crack me up. The sight of him walking into the hotel bar, pockets stuffed with Corona's, no weekend pass around his neck, is one I will never forget.

The dealer room is where met up with Kristy, Ben and Tim from Fright Rags, brilliant artist Jason Edmiston, Terry Callen from Screaming Brain Studio and Sean Jordan from VHSPS - all friends that we hung out with during our Rochester expedition a month or so back. They were all running tables in the dealer room, so we all agreed to meet up in the bar later in the night for the real fun. Bummed around the dealer room, drunk bought a ton of stuff (more on that later!), checked out the autograph room (more on that later!), and before we knew it it was night time, time to hit the bars.



Terry, Jill, Kristy, Jen, Me, Dan

Friday night tends to be the more laid back of nights, with not many events aside from film screenings going on, so we were in the bar most of the night drinking with Terry, his awesome wife Jill, his friend Jeff Salisbury, and Kristy - Geof and Dan ended up going up to their room and calling it a night a bit earlier, ensuring they were well rested for Saturday's madness. We ended up hanging in the bar with our crew till around midnight and then Jen, Kristy and I went up to the Fright Rags room to hang out for a bit with those guys and Jason Edmiston. I wish I remembered the dude's name, but there was a guy in the joining room to theirs that had a whole bunch of custom busts he made on display, including one that looked so much like Victor Pascow from Pet Sematary that it creeped me the hell out. In any event, we were pretty tired at this point, so we headed back down to our room for sleep before long.

Saturday morning. A bit hungover. My body and pounding head, knowing better than to fail me on such an important day as this, choose to miraculously heal themselves. A glass of wine helps me get back into the swing of things. Back down to the lobby for more fun!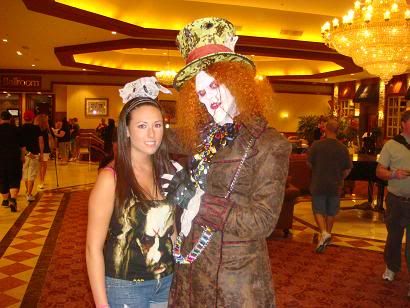 Jen and a really creepy Mad Hatter

When we got down there, Geof and Dan were already waiting in line to meet Carpenter, which they valiantly spent several hours of that day doing. I, on other hand, chose not to spend half of my day waiting on a line - again, no disrespect to JC, as I would've loved to have met him and seen his beautiful head of hair in person. Later in the day Sean from VHSPS told me that the line to meet him was really short, so Jen and I fled over there to seize the once in a lifetime opportunity, but by the time we got up to his room the line had already been cut off. Can't blame anyone but myself!

Bought more shit, met a couple celebs, and then met up with Adam Barnick, a buddy of mine who I met through our mutual street team style promoting of Paul Solet's Grace last year. Adam writes for Icons of Fright and is also a filmmaker, editor and writer who directed all the special features for the Grace and Frozen DVD's. I had met Adam only briefly once before, so it was cool to actually get the chance to really hang out and talk. We walked around the con for a bit together and then went our seperate ways, promising to meet in the bar later in the night for some more hanging - which we did (Jager shots!). Again we spent most of the night in the bar, drinking with our little crew, having a hell of a time.

Oh, and there was another thing that went down that night, something that I was unjustifiably nervous about all weekend - an on camera interview with Enter The Man Cave. Geof wrote up a couple little funny questions, which he intended on asking some of the bloggers in the house. Once I was suitably drunk, we went up to Geof's room and did the interview and it ended up being a lot of fun, though i'm not sure how bad I will end up coming off once the video surfaces on his site. I'm pretty certain I bashed Fangoria and said i'd take Jen, cheap beer and Kristy Jett with me on a desert island if I could only take three things - should at least make for a pretty funny interview, though it confirmed my suspicions that I don't belong in front of any camera, anywhere, at any time.

After the bar closed, Geof, Dan, Kristy, Jen, Sean from VHSPS, artist Jeff Zornow (he does many of the Fright Rags designs), longtime convention pals Dallas and Curtis and myself hung out on a couch in the lobby, where we spent the remainder of the night. Jen and I were armed with our trademark flask of blackberry brandy - a tradition of ours whenever we go out to an event - and I offered Zornow a sip, which led to one of the funniest moments of the weekend. He took a swig and then a horrible expression appeared on his face, wherein he then spit some of the goods out. Turns out he thought I had something manly like Jack Daniels in there and was quite surprised to find brandy flowing down his throat. I believe he said something to the effect of, "you better go tell your dad your gay" - implying that that would be the only way to explain me drinking blackberry brandy. I think he was more serious than joking, but it was hilarious nonetheless. Zornow is far too talented for me to do anything but laugh when he graces me with an insult!

We left early Sunday afternoon, after making a few last purchases to ensure I left without a single penny, so that about rounds up the general recap of events. Do want to give some quick shoutouts though, to a couple really cool people.

- Jordan Garren from B-Movie Film Vault and his friend Greg Doolittle, who does a hell of a Jack Torrance impression. These are two guys we met in Rochester last month and it was awesome to see them again, though we never really got the chance to hang out too much, aside from a couple quick hello's. Plenty of time for that in the future though!

- Jay Amabile from The Sexy Armpit. Again, didn't get to hang out with Jay much, as we caught him just as he was heading out. Cool to finally meet ya Jay and I look forward to hanging in the future.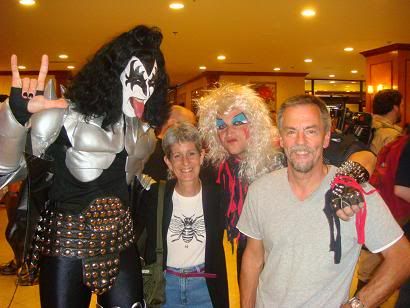 Gene, Dee, and my parents - Tom and Barbara (aka Little Barb)

- And finally, a staple of Monster Mania - Chris Uschak. Chris is at every Monster Mania, usually decked out in full kickass Freddy gear, and I finally got to meet and chat with him, sans makeup this past weekend. Turns out Chris actually reads my little blog and it also turns out he's a really awesome guy. On Friday night he was dressed as Freddy and on Saturday night he donned the Gene Simmons Kiss gear. Chris, you rock and it's people like you who go all out that make weekend's like this one truly special. Monster Mania just wouldn't be Monster Mania without ya! Definitely plan on doing some kind of interview with Chris in the future.

Not to end things on a sour note, but there is one little problem I had with the convention that i'd like to address .....

Though Monster Mania is consistently the most fun and best horror convention i've been to, there was one thing that was a tad bit different and less fun about this one - the security. Though i've never seen any fights or trouble in my years of attending, the security was beefed up big time this time around, and they were being a bit too strict at times. At one point, sitting in the lobby, Jen had her foot barely resting on a coffee table and one of the security dicks came over and told her to take her foot off the table. It was nothing extreme, I just hope that in the future the convention doesn't lose the laid back free-for-all vibe that has always made it so much fun. I understand that the security was brought in to keep everything drama free, but i'd just hate to see it become a more organized and less spontaneous convention than it usually is. *Cough* Weekend of Horrors *Cough*.

Oh and by the way, some drunk fool apparently pulled a fire alarm around 4 in the morning on Sunday, which caused the fire trucks to come and the hotel to be evacuated. Well, that was the idea at least. Turns out myself, Jen, my parents and a ton of other convention goers slept right through the fire alarms, and were nestled comfortably in our beds while tons of others were evacuated. Where were you then, security?! If that had been a real fire, many of us would likely have perished! I suggest you look into the effectiveness of those alarms, Crowne Plaza...

Tommorow - the rundown of celebrity encounters!

Wednesday - the merch!

Stay tuned!