**CLICK HERE FOR PART 1 OF THE RECAP!**

Though I didn't meet most of the stars at the show, including main draws John Carpenter and the cast from Boondock Saints, there were a few people who I just had to meet this past weekend. Here are my experiences with the woman who gave Crispin Glover a run for his money in the 'Best Friday The 13th Dance Scene' category, the scariest character of all time, and the sexiest on-screen tranny the world has ever known!




TIFFANY HELM

Pretty soon after we headed down into the thick of things on Friday, Kristy Jett introduced myself, Jen and Terry Callen (above) to Tiffany Helm - Violet from Friday Part 5 - which resulted in one of my favorite memories from the weekend. Kristy convinced Tiffany to do her famous dance from Friday 5, which Terry joined her in - Jen and I were far too sober for any dancing, but I do regret not taking part. Thankfully, this moment was captured on film!


Big thanks to Michael Perez for filming and uploading this video

Though I never would've known if ya hadn't told me that the woman standing in front of me was the same girl who played the blonde Violet in the flick, I gotta say, Tiffany has remained a pretty sexy lady over the years. She's also an incredibly nice woman - everytime I walked past her during the weekend, she would go out of her way to wave to me. I unfortunately did not take a picture with her, but hopefully our paths cross again at a future convention so I can do so.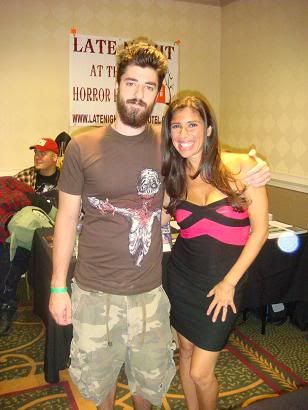 FELISSA ROSE

I met Felissa way back at a Horrorfind Weekend convention several years ago and decided to meet her again this past weekend so that I could get my Sleepaway Camp Survival Kit DVD signed.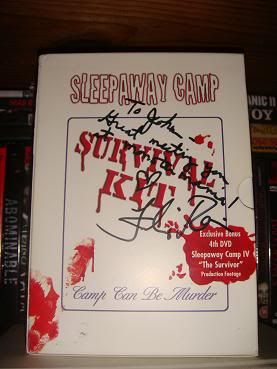 "To John - Great meeting you at Monster Mania! <3 Felissa Rose"

As always, Felissa was incredibly nice and as beautiful as ever. At one point she asked all of the fans lined up at her table to take a picture with her, saying that she doesn't get to do conventions often enough and wanted to capture the moment. When Jen and I got up to the table, she thanked us for taking part in the picture. Hoping this shot surfaces at some point soon.




ANDREW HUBATSEK

Going into the convention, Andrew Hubatsek is the person I wanted to meet the most. You wouldn't be able to tell by looking at him, but Andrew played one of the scariest characters in the history of horror - the female Zelda from Pet Sematary! Andrew was one of the nicest guys i've ever met at a convention and, this being his very first convention, he seemed genuinely shocked that people wanted to meet him and that so many were so scared by him in the movie. We chatted for a couple minutes about how scary Zelda is, why she's so scary, and how unscary of a dude the man behind the spinal meningitis ridden creature is.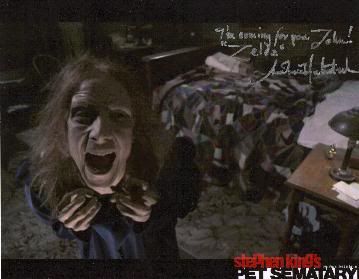 "I'm coming for you John! 'Zelda' Andrew Hubatsek"

Later in the night we checked out the first half of the Pet Sematary panel, which featured Denise Crosby (Rachel), Dale Midkiff (Louis), Miko Hughes (Gage), Brad Greenquist (Victor Pascow) and Hubatsek. It was nice to hear the whole cast speak so highly of the late Fred Gywnne (Jud/Herman Munster) and it was interesting to see what everyone looks like nowadays - Denise is sexier than she was over 20 years ago, Miko has grown into a pretty handsome dude (though still quite short!), and though Brad Greenquist has packed on some years and a few pounds, he still looks eerily like the bloody visage of Victor Pascow.




Couple other little celeb notes ....

Also looking better than ever were Lisa Wilcox (Alice from Dream Child) and Betsy Russel (Jigsaw's wife from the Saw franchise), though I didn't meet them. On the flip side of the coin was Marta Kober (Sandra from Friday Part 2), who the years haven't been all that kind to - and i'll leave it at that.