One of the highlights of every horror convention is the massive dealer room, chock full of horror related treats. This room is like the best yard sale on earth, stuffed with both low priced goodies that you are usually only able to find online as well as one of a kind handmade items your eyes have never gazed upon before. As is always the case at these things, I saw many a familiar face in the dealer room this past weekend, peddling the same stuff i've seen them peddling a dozen times before. But I also saw a lot of new vendors this time around, many of them with really creative and unique custom items. A few hundred dollars later, here's what Jen and I emerged with .....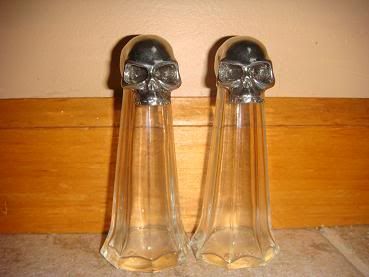 One of the coolest new dealers to the Monster Mania scene is Martha Rotten, a woman who we first saw at Monster Mania 14. Martha hand casts things such as skulls, creepy doll heads and teeth in pewter and turns them into kitchen utensils, jewelry, accessories and various other giftwares. Jen and I both had our eyes on these salt and pepper shakers all weekend and finally broke down and split the cost on them come Saturday night. We had been looking for cool salt and pepper shakers to outfit the new house and I don't think there are cooler ones in existence!




Sourpuss Clothing is another favorite vendor that we always end up buying a couple things from. This kitchen mitt and pot holder set is something we've had our eyes on for a while. This is gonna be one badass kitchen!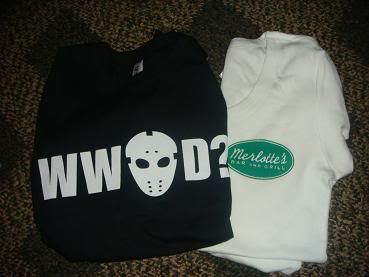 Jen picked up these two shirts - a Merlotte's Bar and Grill tee for only 10 bucks and the Fright Rags What Would Jason Do? women's tee. Can't leave Monster Mania without something from Fright Rags!




These little handmade out of string keychains are something i've always gotten a kick out of, ever since we got a Freddy one from the same guys a couple years back. For the life of me I once again cannot remember the name of the company that makes them (sorry guys!), but i've only seen them at conventions so i'm not sure they're for sale online.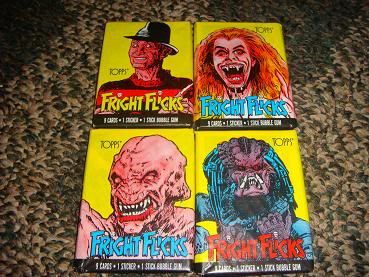 Something about unopened packs of Fright Flicks trading cards makes me very happy. Probably because they remind me of my childhood. I plan on keeping these suckers in the packages and displaying them in the house on little mini easels. That may sound a little weird to some of you, but for whatever reason I get a smile on my face whenever I look at these things and so I want them front and center in my home!




Free shit from Dread Central! Dread Central always goes out of their way to get cool promotional goodies to giveaway free to convention goers and I can't thank them enough for that. Something apparently went down with the guy who runs the table each and every time, Paul Nicholasi (writer for Dread Central), that resulted in him and the entire table getting booted from the convention either Friday night or early Saturday. I don't know all the details, but I hope everything's ok and I hope Paul is at future Monster Mania's, as he's a hell of a nice guy who I always like seeing there. Check out Paul's action figure site Idle Hands.

Oh by the way, that deflated flat thing is a Piranha 3D promotional beach ball!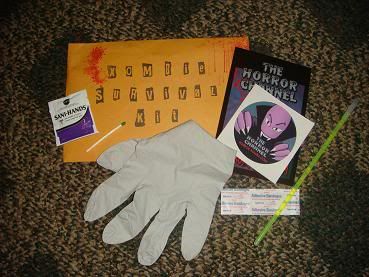 Speaking of freebies, the folks from new horror site Zomba's Horror Channel had a table and were handing out homeade Zombie Survival Kit's to promote the site. Inside each kit was a match, a glowstick, a protective glove, a hand sanitizer, a band-aid, and a promo sticker and flyer. Pretty awesome little idea and I will definitely be checking out the site thanks to this creative promotion!




Due to the all rules go out the window mentality of horror cons, one can always find tons of awesome bootleg DVD's of titles that either aren't out yet or were never put on DVD. I picked up the entire Goosebumps series (all 74 episodes) for a mere 35 bucks as well as the new titles I'll Never Die Alone (hot chicks get revenge on rapists) and Backwoods Bloodbath (kids in woods get murdered by some kind of creature). I had never heard of either title before and I can't wait to check 'em out. Reviews to come soon!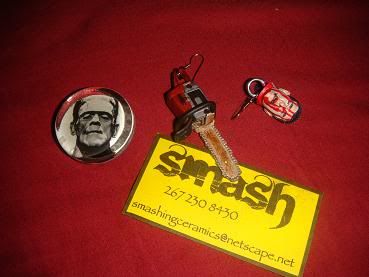 Back to the handmade side of things, Jen scored these kickass earrings and Frankenstein magnet from an awesome dude named Mike Smash, who specializes in custom dolls depicting various horror movie characters and death metal icons. Mike doesn't have a site up yet but when he does, i'll be sure to let ya know about it. For now, you can friend him on Facebook to see some of his stuff.




My very own Elvira! I will try to resist the urge to take her out of the package and fondle her....




Can you tell that I have a hardcore crush on the Mistress of the Dark? This art print is from artist Joel Robinson, who I met in the hotel bar on Friday night. Joel is a staff artist for my favorite horror mag out there, HorrorHound. Cool dude and great artist.




Terry Callen is another artist i'm a big fan of, and one i'm happy to call a friend. I first met Terry at the Fright Rags Rochester event and we hit it off immediately, ensuring that we will share many an adult beverage together in the future. I picked up this kickass art print, a t-shirt he designed, and his comic book Sick as a Dog, which was written by Night of the Living Dead : Reanimated curator Mike Schneider. Terry's company is called Screaming Brain Studio and he's got a lot of awesome stuff both available for purchase and in the works, including shirts, posters and a model kit based on one of his designs. I hope to someday in the near future collaborate with Terry on a comic book - ya hear that, Callen?!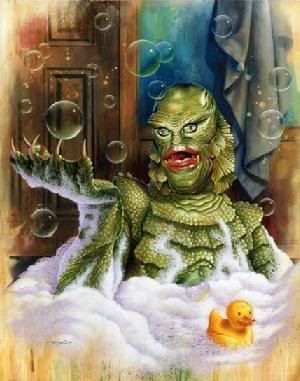 These two limited run prints were hand crafted by Jason Edmiston, another incredibly talented and cool as hell dude I met at the same Rochester event. This is now the fourth piece of his work I own and I cannot wait to hang all of them in the new crib. You can bet your ass that the bubble bath Creature From The Black Lagoon piece is going in the bathroom!




Met Rob Dimension, late night horror host, through various mutual friends and he gave me this DVD of a couple episodes of his show Late Night at the Horror Hotel. Looking forward to checking it out and i'll let ya know how it is. Thanks Rob!




Jen's a big time Frankenstein fan and I bought her this oldschool little flashlight keychain - under the condition that she keep him in the package. Being that the almost 20 year old thing no longer lights up, I don't think that should be too hard for her to do.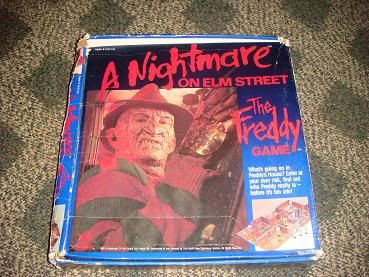 This is a piece of Freddy merch i've been dying to get my hands on for years now and for the price of a mere 10 bucks, I snatched it up at first sight of it. It appears to have all the pieces and I can't wait to play, realize how horrible it is, and then use it as a nice display piece in the house.




This little doll with her brain exposed was purchased from the same dude who sold me the board game, for a single dollar. He's a makeup/custom design artist who calls himself Doctor Spookenstein and both Jen and I were shocked that he was giving his creation away for such a cheap price - in fact, everything at his table was super cheap. Jen totally fell in love with her, got her signed by the artist, we named her Ophelia, and we now live happily ever after with our new spawn.




*This image doesn't do the poster much justice. I didn't want to unroll the thing until i'm ready to put it up and it's way too big to take a picture of anyway. This image I found on Google is pretty much what the poster looks like, except it says Nightmare On Elm Street Part 5 : The Dream Child on it. And it's much much bigger and wider*

I saved this one for last both because it is probably my favorite thing that I purchased at the convention and because it was the last thing I bought, early on Sunday morning. I had never before in my life seen this poster, probably because it's from the UK, and I knew I had to have it the second I laid eyes on it. When I spotted it on Sunday, the guy who was selling it had not yet set up his table for the day and we were heading back home in just a few minutes, so I was afraid I was gonna miss out on it. Thankfully, he showed up in the nick of time and sold it to me for 25 bucks.

Pretty proud of this haul!