It should come as no shock to you that i'm a lover of all things pumpkin scented and pumpkin flavored - not just this time of the year, but all year round. My fridge is often stocked with pumpkin beer, my cabinets with pumpkin coffee, my kitchen has a pumpkin spice plug in air freshener in it - which pumps out pumpkin scented deliciousness 24 hours a day - and there's both pumpkin hand soap and room freshener in my bathroom. In addition to pumpkins, i've also had a lifelong love for Pop Tarts, so much so that there was a time in my life where I exclusively ate them - for breakfast, lunch and dinner. Needless to say, when I stumbled upon the very last box of these at a recent visit to Target's newly set up Halloween section, I nearly lost my shit.




As expected, they're pretty goddamn delicious, tasting like a cross between my favorite Pop Tart, Brown Sugar Cinnamon, and a delicious homeade pumpkin pie - which I guess makes sense being that cinnamon is a main ingredient in such a dish. The only complaint I have about them is the same complaint i've had about many a Pop Tart in the past - there's just not enough of that advertised flavor wedged inside the outer shell! Double Stuffed Pop Tarts - whadya say, Kellogs?! Neverless, they're quite tasty and I highly recommend you pumpkin pie fans stock up, as these Limited Edition Tarts will not last very long!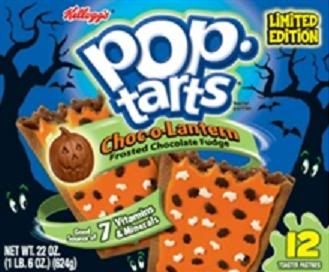 Kellogs has also put out another Halloween themed Pop Tart this year, which they've dubbed 'Choc-o-Lantern'. Pretty cool in appearance but they look to be a typical chocolate Pop Tart when it comes to taste time, making them a bit less of a must have treat than their pumpkin pie brothers.