I mentioned the other day that I bought a whole wall of new release shelving from a going out of business Blockbuster in my area a couple weeks back, all for a mere 100 bucks. I had to wait two weeks until the store officially closed down to pick them up, as they were still being used to display clearance DVD's, and this past Monday was that big day. My dad and I went over there Monday night to disassemble the three seperate pieces and bring them home, which he then reassembled over here - only two of the shelves fit in the area I wanted them and I soon discovered I only needed two. Last night I spent a majority of the night painstakingly putting all of my DVD's on the shelving, in alphabetical order by genre - I had them in this order at my parent's place and I thankfully kept them as together as possible when I packed them away several weeks back, making this a lot easier than it could've been. Several hours later, my masterpiece was complete!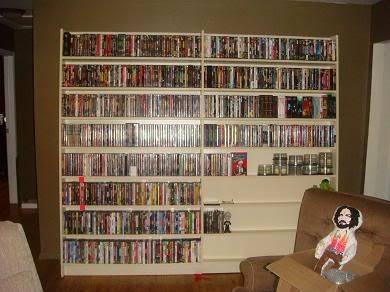 *Just to give you an idea of how much of my collection is horror, the horror section begins at the start of the shelving and ends where I drew that little red line in*

Space has always been an issue with me when it comes to my DVD's and this was the absolute most perfect solution I ever could've found. I'm fully confident that no matter how much money I had at my disposal, I never could've found shelving as good as this. It's gonna be easier to file new titles in, it looks great, and best of all, it holds my entire collection - and then some. If I hadn't stumbled into Blockbuster at the right moment, looking for nothing more than $2.99 previously viewed and scratched to shit horror films, I likely would've ended up spending far more than 100 dollars for far less impressive shelving. Right place, right time!