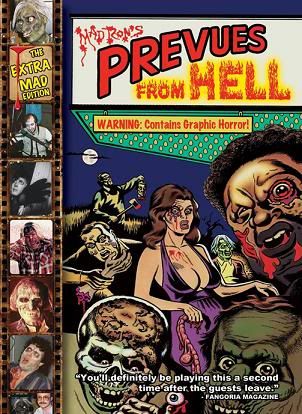 OUT TODAY ON DVD!

Originally released on VHS back in 1987 and now on DVD for the very first time, Mad Ron's Prevues From Hell is a collection of 47 totally uncut trailers for exploitation/horror films the likes of The Texas Chainsaw Massacre, The Corpse Grinders, Torso, I Eat Your Skin, I Dismember Mama, 3 on a Meathook and Ilsa : She Wolf of the SS - you know, the ones with ample freeze frames and narrators with uber deep voices that hammer the name of the film into your head over and over again. In between the trailers are skits featuring a ventriloquist and his zombie pal, who are hosting the trailer viewing event for an all zombie audience, which is being projected onto the screen by Mad Ron, a psychopath chained up in the projection booth. Ya just gotta love the 80's!

Unfortunately, with the advent of YouTube giving anyone and everyone accessibility to all of these trailers and then some with a mere click of a mouse, Prevues From Hell is far less exciting and must own than it was back in the late 80's, but it is nonetheless a fascinating and nostalgic relic from a bygone era when horror films still had balls and remains a very entertaining compilation of some of the best trailers from that era. In our current day and age where many of these films are either making their way onto Blu-ray or are getting crisper and cleaner DVD releases, it's nice and refreshing to just sit back and watch a bunch of beat up old trailers from yesteryear. I probably could've done without all the filler skits though, even if they do have trace amounts of cheeseball charm.

I'm admittedly a sucker for trailer compilation DVD's and I had a lot of fun watching Prevues From Hell last night, though I can't help but think it would've been a lot more fun had I had a six pack and some of my horror loving friends by my side - which is most definitely the next experience I will be having with this DVD. It is pretty much the perfect background action for a night of laid back drinking and I can only imagine that I will be wearing this disc out at such hangouts in the near future. Yes, you can get all these trailers for free on YouTube, but it's always nice to be able to pop in a single disc and get 'em all in one fell swoop.

If nothing more, I can guarantee you that this unearthed 80's gem will bring plenty of new exploitation flicks into the homes and lives of those who may not spend their days seeking out such films and will also bring about some serious revisitation to those that do. Glad to see this one finally getting a re-release.