Though I wasn't too into the direction the film went in its later half, I still consider Splice to be one of the best genre films of 2010 - read my review here. That being established, I was incredibly excited when I received an e-mail from Warner Brothers last week asking if i'd like to host a super awesome giveaway tied to next Tuesday's release of the film on DVD and Blu-ray.

(They also pitched an Elm Street remake giveaway to me and though I love Freddy to death, and though my blog is named after the burnt bastard, I just didn't feel right hosting a giveaway for a movie that I panned so hardcore. Sorry to any fans of that movie!)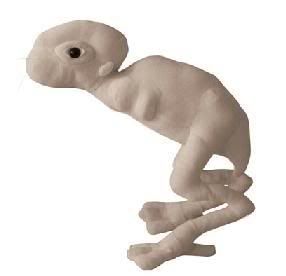 Not only have they offered up a copy of the Blu-ray and DVD combo pack for you guys, but they've also supplied me with one of the incredibly rare and limited edition baby Dren plush dolls, the same doll that I sought out and bought from a friend of mine several months back! That's right, one of you lucky motherfuckers is not only going to win a Blu-ray/DVD combo pack of Splice, but also your very own baby Dren plush doll! I can't express how happy I am that I have the opportunity to bring this awesome prize into one of your lives.

Here's all you have to do to enter!

Leave a comment below with your e-mail address. If you've seen Splice, include why you dug it - i'm assuming you did if you want this prize. If you haven't seen it, include why you want to see it.

That is all. Giveaway is open to everyone and will run through next Tuesday, October 5th, the day of Splice's DVD, Blu-ray and On Demand release. Good luck!