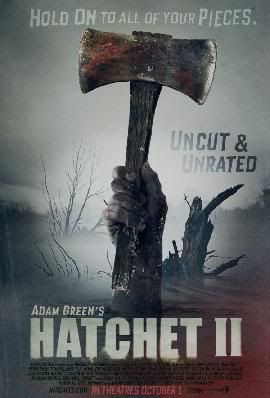 Movieweb has just scored an exclusive clip from Hatchet 2, the very first clip from the flick aside from the trailer that was released a couple weeks back. Check it out below!



Hatchet 2 hits AMC theatres FULLY UNCUT on October 1st. Keep your eyes peeled on the official website for theatrical listings, which should be posted soon. I will also post them right here in this spot once they're announced. But whether the movie comes to a town near you or not, I encourage you to purchase a ticket online in an effort to show the studios that us fans want to see more unrated horror in the theatre. It's a pretty big deal that the film is being released unrated and this is a huge opportunity for the genre to return to its glory days. Show your support!

Oh and if ya want a free Hatchet 2 poster, I just might have a little something for ya in the coming weeks....