Went pumpkin picking with some hungover friends yesterday and we soon realized that doing so mere days before Halloween is much like going to a yard sale at 5 o'clock on a Sunday ... there aint much good shit left for the picking. Lots of rotten fly infested messes, but we each managed to grab a halfway decent one after some looking around. So what did I decide to carve into my pumpkin this year? I don't think the answer to that question will surprise you too much ....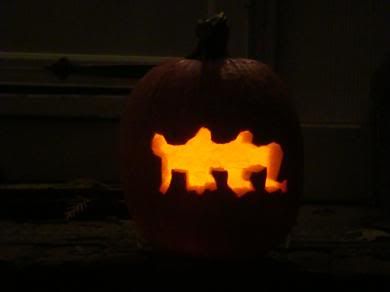 Yep, that's my attempt at a Human Centipede pumpkin, an attempt that failed largely based on the fact that I foolishy cut away bits within the 'pede that shouldn't have been cut away - i'm not too good with this shit. Neverless, I did end up with a pretty sweet pumpkin action figure that looks much more like the whole thing was supposed to look ....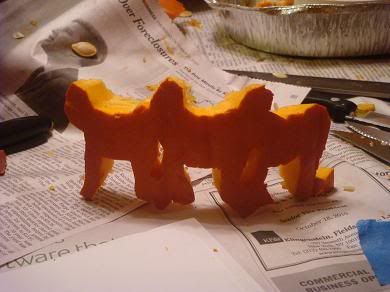 As is usually the case with the art projects we do together, Jen's pumpkin came out much more impressive than mine ....




Pumpkin picking/carving day is always one of my favorite days of the year and i'm glad we finally got around to it, late or not. And hey, at least our pumpkins wont be totally rotted once Halloween actually arrives, like they usually are, thus giving the opportunity for many a kid to get their first taste of The Human Centipede! To this, I can only smile.

Halloween is less than a week away .... have YOU carved your pumpkins yet?!