Last July I discovered an old school video shop not too far from my house called Star Video that I was shocked to find was still stocked primarily with VHS tapes (sun faded and all), both for sale and for rental - check out the post I made about the tapes I got from there. It was the kind of place I had thought was totally extinct, but there it was, a relic from the past managing to somehow stay in business in the present.

About 6 months later, in January of this year, one of my local papers ran a cover story on this very shop that talked about how business had slowed over the years but that the place still managed to have a loyal customer base that kept it afloat. Being published right around the same time as I got news of a combo Blu-ray/VHS player on the market and a new horror film, House of the Devil, being released on VHS, I was riding on a nostalgic high - were VHS and mom and pop video stores making a comeback?! A look at today's cover of the same local paper that ran the story less than a year ago brought me back to a sad reality ; this kind of place just cannot possibly exist in this day and age.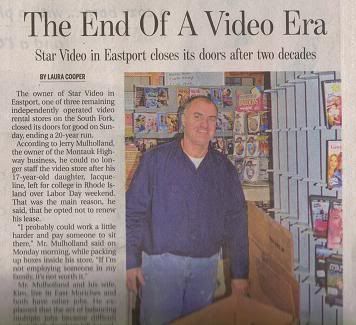 Yep, after two decades of being in business, Jerry Mulholland closed up shop this past weekend. He opted to not renew his lease after his 17 year old daughter, who worked at the shop, went off to college. "If i'm not employing someone from my family, it's not worth it", Jerry said for the reasoning behind this decision, a decision that is also tied to the fact that he operates a landscaping company that takes up much of his time and of course, that business has declined heavily since he bought the shop in 1990. He held a going out of business sale over the weekend (if I only heard about this before today....) and then boxed up the remainder of his tapes and DVDs, which are in storage until they are sold off at flea markets. An empty shop is all that stands in Star Video's former location, just waiting to be turned into something much more relevant to the times.

Jerry, you had a great run and i'm gonna miss stepping foot into your time machine of a shop that brought me directly back to my childhood. Though I thought about going in there more often than I actually did make the trip out there, it was always comforting knowing you and Star Video were just a short drive away.

With a Blockbuster near me going under a few weeks back and now this, it's becoming pretty clear that the days of video rental stores are incredibly numbered, with machines, the internet and television on demand services more than ready to take over the reigns. I truly feel sad for the youngsters growing up in these current times who will not know the joys of walking into a store stocked with thousands of movies and hand choosing one to spend their night with. Though todays technologies make renting easier and cheaper, that experience is just something that sadly has been lost in the process and cannot be replaced by any technological advancements.

"I'd much rather get a video there than from a box." - Lisa Federico, a longtime loyal Star Video customer.

To all the video shops that have suffered similar fates, you are missed.