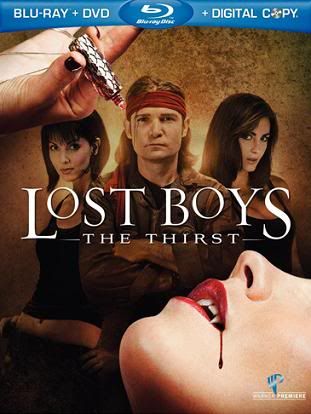 It's week two of the Warner Brothers October giveaways here on Freddy In Space and this week i'm excited to bring you not one but TWO copies of the Blu-ray/DVD/Digital Copy combo pack of next weeks release of Lost Boys 3 : The Thirst! Read on for all the details!



As the lost boys and girls of San Cazador prepare to party under the Blood Moon, an alpha vampire conspires to turn these unsuspecting ravers into an army of undead. The only thing that stands between him and the annihilation of the entire human race is the infamous vampire fighting Frog Brothers. Armed with double-barrel holy water balloon launchers and multi-arrow crossbows, Edgar (Corey Feldman) and Alan Frog (Jamison Newlander) join forces to kick some blood-sucker butt in this latest high-energy, action packed adventure in the Lost Boys franchise.

LostBoysTheThirst.com

Available on Blu-ray Combo Pack, DVD, On Demand and for Download 10/12!

To enter, leave a comment below with your e-mail address and why you're excited to see the third installment in the Lost Boys franchise!

Giveaway is open to everyone and will run through next Tuesday's (Oct. 12th) release date. Good luck!