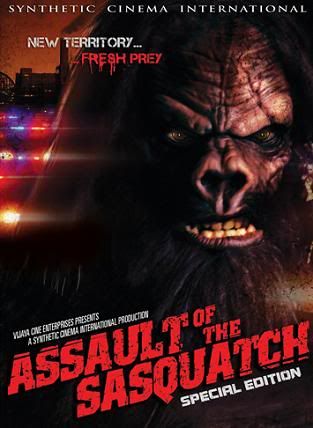 EXCLUSIVELY ON CHILLER TV THIS WEEKEND AND ON DVD OCTOBER 19TH

When a merciless bear poacher is arrested deep in the woods, he and his truck are taken to a neglected precinct in the heart of the big city. Unbeknownst to the autorities, the impounded truck holds a deadly cargo in the form of the legendary Sasquatch! Now, stuck in an unfamiliar world, the creature will let nothing and no one stop it from coming face-to-face with the unscrupulous man who ripped it from its environment.

I first became aware of this movie through the YouTube channel of budding actors Shawn C. Phillips and M.J Kelley, which goes by the name Coolduder. They're two guys i've been watching for several years now, long before they started getting work in low budget indie horror films, and I remember watching their vlog about their trip to the set of this movie way back when filming first began (this video is included on the DVD). Naturally, now that the film is available to watch, I had to see it. Besides, Shawn and MJ aside, I tend to see every Sasquatch horror film that comes along, even if the large majority of them are pure garbage.

Assault of the Sasquatch is not pure garbage, though it does remain on the highly mediocre side of things, which by default makes it one of the more entertaining Bigfoot on the loose movies to date. That being said, it's not all that entertaining of a film. The Bigfoot costume looks pretty silly, a large portion of the jokes fall flat and there's a lot of boring downtime that focuses not on Sasquatch ripping people new ones, but on other side plots that I quite frankly didn't care to see. Which brings me to the main problem I have with most Sasquatch horror films made - there's just not enough Sasquatch carnage in them! The scenes in Assault where Sasquatch is present, stomping puppies and ripping off limbs, are the best bits of the movie, making you feel like a much more fun flick was so close to being made, but they're outnumbered by those scenes that just make you want to hit the fast forward button.

The highlight of the film, for me personally, is the over the top and totally wacky Shawn C. Phillips, who brings much of the entertainment and laughs along with him, to the point that I felt like I was continuing to watch the film only to see what he would do and say next. It's the best and most 'real' film he's been in to date and I hope to see him do more stuff like this in the future. As for M.J, ehhh, I could live without him.

Overall, Assault of the Sasquatch is a moderately entertaining entry into the world of Sasquatch horror, one that fans of that subgenre will probably find better than most. But just as the hunt for a real life Sasquatch continues, my personal hunt for the be all end all Bigfoot horror flick still presses on ....