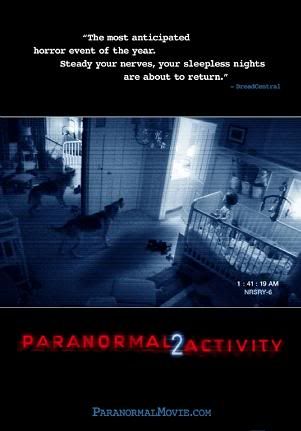 Last year, amidst a sold out screaming audience, I experienced Paranormal Activity. I loved it, felt it brilliantly and terrifyingly did for sleeping in ones own bed what Jaws did for swimming in the ocean ... and I didn't get much sleep that night. Last night at midnight I went to that same theatre I was at a year prior, sold out and filled with a screaming audience once more, and got my second dose of Paranormal Activity. Though a wee bit of the spark and terror of the first one is gone now that we've seen it all before and pretty much know what's going to happen at most every turn, Paranormal Activity 2 proved to be a more than worthy follow up to last year's smash hit, one that should satisfy any and all fans of that flick. Suffice to say, I didn't exactly sleep like a baby last night ....

In most cases, it's not a good thing when sequels follow the same formula as their predecessor, almost note for note. In this case, it was precisely what I wanted, what I expected and what I was more than happy to receive. The concept of Paranormal Activity was so simple and well executed and I really think that this sequel would never have worked if it tried to stray too much from that formula. All we needed was to see another group of people get terrorized by that invisible demon and that's what we get, with a baby and a dog thrown in the mix to make things extra creepy this time around. On top of that, this second story is presented and put together in a very smart and logical way, coming off more as a completion of the story than an attempt to cash in on the success of the original - what more can ya ask for?

Despite the fact that we know what to expect this time around, and that it's kind of silly that they're still trying to make us think this shit is real, even after we've seen Micah and Katie on the cover of Entertainment Weekly, the movie still managed to be as scary as the first one, which is pretty damn impressive if ya ask me. It's almost as if the filmmakers are saying to us, "You've seen this movie before, you know what's coming ... but we're still gonna fuckin' scare the shit out of you." And scare the shit out of us they did once more. Bravo, fellas.

I gotta say, an incredible job was done keeping this film under wraps these past several months, to the point that I was totally surprised by what and who the movie is actually about. I don't want to go too far down any kind of road that could potentially spoil anything for anyone, as you should go into this one as blindly as I did, but I do want to quickly say that fans of the first PA will be very pleased to find that a few things from that film are explained in this one, with both movies serving as one epic story when watched together. And that's all i'll say about that.

This is the kind of movie that should be experienced within the confines of a jam packed theatre, so get out there this weekend and get the shit scared outta ya!

It's truly amazing how into these movies people get. Never before in my life have I seen people lined up hours prior to a movie starting like I saw with both the first and now the second Paranormal Activity. It's awesome to see, even if I at the same time wish half those people would come out and support other genre pictures as hardcore as they do these beasts. Nevertheless, these movies are definitely worthy of your support and this is one horror sequel that adequately fills the shoes of its hugely successful bigger brother.