No, that's not someones lame costume for Halloween this year. That's the first look at the new Pinhead, as portayed by Stephan Smith Collins in the upcoming Hellraiser sequel Revelations. I'm not sure what's worse, this or the makeover Freddy got earlier this year....

Not that it really matters anymore with these Hellraiser films because they're sure to suck more and more with each passing year, but I can't imagine why the one good thing they had going for them, Doug Bradley, has been replaced. If this were a remake i'd say absolutely slam some pins into a new actors skull, but why replace Bradley for just another sequel, especially when he's the only actor to ever play Pinhead?

Regardless, if you're gonna replace Bradley, at least make Pinhead look more badass than ever. This shit just looks totally lame and sucks all the coolness out of a character that is pretty damn hard to suck the coolness out of. Sorry guys, but this ones a fail of epic proportions.

The saddest part of all of this is that Gary Tunnicliffe, special effects artist for many of the Hellraiser films as well as this latest one, designed an INCREDIBLE Pinhead makeup a couple years back. From what I remember he was lobbying to be the guy who got to design ole Pin for a proposed remake of the original classic, and this is what he whipped up as his audition of sorts....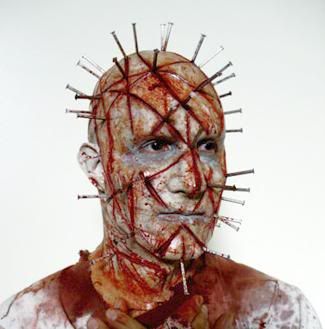 Now that's motherfuckin Pinhead! Save the money on another crappy sequel and just remake the whole damn franchise, with this actor and this makeup. Who's with me?