This will be the second time i've mentioned Z For Zombies' Zach Shildwachter tonight, but I simply cannot grasp the awesomeness of what i've just laid eyes on and i'm hoping you guys can help me with that ...

A few months back I commissioned Zach to put his art skills to the test and paint me a picture of Clint Howard from one of my favorite horror movies of all time, The Ice Cream Man. I gave him full creative control and he told me that he found some kind of wooden seat from an old chair that he intended on painting it on. Last night, Zach sent a picture to my cell phone of this work in progress and while it made me giddy with excitement, my mind wasn't fully blown until I just saw a bigger and more detailed picture that he posted on his Twitter account. From the picture I saw I thought he had painted ole Clint with white paint. What Zach actually did was CARVE the drawing into that wooden seat, his first attempt at carving anything!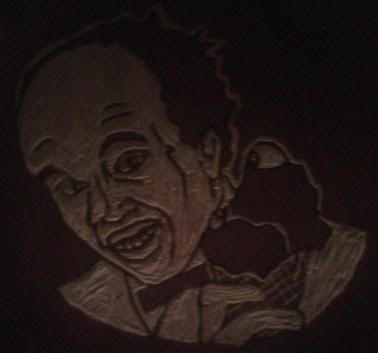 Not sure what else he's gonna do with this thing but I cannot wait to find out and I will post more pictures once I receive it!

Zach, you have rendered me completely speechless. You are one hell of a talented motherfucker and i'm pretty sure I will fork over however much money you demand of me for this incredible masterpiece.