Two years ago, around Halloween, my local library held a ghost hunting seminar put on by The Paranormal Adventurers, Joseph Flammer and Diane Hill - an event I documented in this post. This seminar has become a yearly tradition at the library around this time of the year, with the latest one taking place just last week. In any event, Joseph ended up reading my blog post after the seminar two years ago and remembered me in the audience last year, which was pretty cool and has led to us striking up a bit of a friendship. Fast forward one year ...

In a very bizarre and fateful turn of events, Jen, myself and a friend of ours ended up bumping into Joe and Diane one night last October (mere days after this second annual seminar), when we decided to do a little ghost hunting of our own at a nearby haunted cemetery called Potter's Field, a location I learned about through their seminars - I also documented that highly memorable night in this post. At Potter's Field, Jen managed to capture some pretty interesting photos, one of which Joe e-mailed us about later on asking for permission to use it in their upcoming book - more on that in a minute. This night has always stuck out in my mind for the past year, due to the sheer coincidence of being at that location at the exact same time on the exact same night as Joe and Diane. Though as more information about that cemetery comes to light, i'm starting to seriously wonder if this was all mere coincidence ...

Jumping forward to this years seminar, held this past Thursday night, which I missed out on attending due to my brothers graduation from the court officer academy upstate. We got home too late to attend, which I was pretty bummed about. Deciding to drown my sorrows in a horrifically unhealthy cheeseburger with a pretzel bun, Jen and I went out to Friendly's late that night. It was while I was sitting there feasting on this delicious mess that I overheard a very familiar voice directly behind us - it was the distinct voice of Joseph Flammer. I didn't want to bother him and Diane while they were eating but I knew I had to say something. Luckily, as I turned around to make sure it was indeed Joe, he recognized me and Jen and I went over for a little chat. Remember that book they were writing that they wanted to use Jen's photo in? Turns out the book came out a month or so ago and not only did they use Jen's picture, but they also dedicated a whole two page spread to that fateful night at Potter's Field one year prior. It's a fascinating story that sends chills up my spine everytime I think of it while at the same time putting a big smile on my face thanks to the serious shoutout Joe was awesome enough to give me.

Below you will find this story as it appears in their new book, titled Long Island's Most Haunted Cemeteries. Serving as a great companion piece to my blog about that night, Joe's account sheds some light on some very eerie things that I was not privy to at the time.

______________________________________________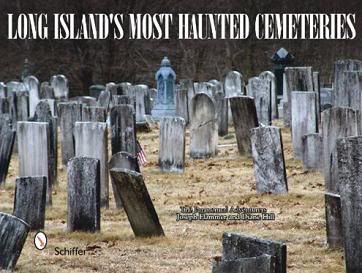 On a pleasant night a few weeks later a chance meeting at Potter's Field with ghost hunting enthusiasts John Squires, Jennifer Carroll, and their friend Stefan would reveal a second sighting of ghostly activity at the same general place in the graveyard where John Snow had snapped a white ecto-mist emerging from a grave.

On this night Diane and I were being filmed by a crew from Phoenix, Arizona that had attended our lecture at Queens Central Library in Jamaica that afternoon. We had been doing interviews with the crew inside the darkened graveyard when a car pulled up to the guardrail, and out emerged the three young curiosity seekers. We initially thought they were police and a conversation ensued. They explained they were not really ghost hunters, but were interested in finding out more about Potter's Field.

Ironically, only a week earlier, John and Jennifer had attended a lecture Diane and I gave at the Hampton Bays Public Library. Stirred by our discussion, photos and video of Potter's Field, the couple now wanted to see for themselves what it was like in the cemetery at night.

I took a break from the rest of my group after we concluded filming and walked to the opposite end of the cemetery to engage the three visitors from Hampton Bays in a discussion about the pararnomal. I knew if there was anybody who might have a point of view about the history of this graveyard and the paranormal it would probably be John Squires ; he is a brazen writer with a lively weblog, "Freddy In Space" (www.freddyinspace.com), in which Diane and I were victims of entertaining light sarcasm after John saw us speak at the local library in 2008. Moreover, I knew John was a descendant of an impressive Long Island bloodline, the Squires of Hampton Bays, of which Diane and I had knowledge through our research of historic Long Island events.

Historians say Ellis Squires founded the hamlet of Good Ground, the earlier name for Hampton Bays, after single-handedly sailing and rowing a clumsy whaleboat from Maine to Southampton with his wife and their nine children aboard. Then he maneuvered the boat to an interior area of Long Island known as Red Creek. The Squires were the first white family to settle the place known today as Hampton Bays.

Additionally, John Squires is related to Captain William H. Squires, who bravely died after the Louis V. Place schooner shipwrecked off Fire Island in a horrific snow storm in February 1895. It's said that the captain's frozen body fell overboard into the icy sea and drifted thirty miles east against the current to his hometown of Good Ground so he could be buried with the rest of his family in Good Ground Cemetery. One legend says the captain's body was found only yards away from his home.

The Long Island Maritime Museum in West Sayville exhibits a photo of the Louis V. Place shipwreck on a prominent wall. On a nearby written display it raises the question as to whether or not an image people said they had seen in the rigging of the doomed ship was the ghost of Captain Squires, for the likeness was uncanny, some said. A photograph from the time captured the image of the face - and it is this photograph that is displayed on the museum's wall. Diane and I published an article about this mysterious event in Dan's Papers, a magazine in the Hamptons, in 2008.

While we talked, Jennifer Carroll casually photographed the graveyard, stopping from time to time in the dark to discuss her personal beliefs and experiences, or to raise a point. As she photographed the graves, it became increasingly apparent to me, like a kettle that was starting to whistle, that the mists of the cemetery were becoming evermore awakened and Jennifer was nonchalantly capturing their forms in her photographs. No one from my group had gotten any mists that night, despite our expensive infrared technology and other impressive recording equipment - but Jennifer was getting them!


Jennifer captured one photograph in particular, exhibited at the beginning of "A Prelude to A Haunting" at the start of this book, of what surely looks like a ghostly body emerging out of the ground and walking across the graveyard towards her. This photograph was shot in the same spot where John Snow caught a mist also rising out of a grave.

As this was taking place, I dared not tell John Squires what I knew and that he didn't know at the time - a man who might have been a relative, James Squires, was buried in the part of Potter's Field where he was standing. James Squires died at age sixty-four in 1893. His grave marker is 732 - the area where Jennifer caught the image of the man. The question that arises for me is : Were all the coincidences that brought John Squires to the graveyard that night intended to lead him to James Squires' grave?

______________________________________________

That's some pretty freaky stuff, eh? I can't help but wonder the same thing Joe's been wondering since that night and our second chance encounter at Friendly's the other night seems to be further proof that all of these events have happened for a reason. Had I not met up with Joe and Diane at Friendly's, I wouldn't have even known the book was out nor would I have any idea of the family history that graveyard holds. The fact that both of us ended up eating dinner at the restaurant at the same exact time, them coming from their seminar and me coming from my brother's graduation, seems far too coincidental to dismiss as mere happenstance, as does the meeting at Potter's Field one year ago. As the Twilight Zone theme plays in my head, I can only wonder ...

I sincerely thank both Joe and Diane not only for including our story and photograph, but for the Freddy In Space shoutout as well. You guys are awesome and I hope to do some ghost hunting with you in the near future.

For anyone interested in the paranormal, I strongly recommend you pick up Long Island's Most Haunted Cemeteries. It's a beautiful book, full of incredible pictures and anecdotes, and though it's obviously going to be a bit more interesting to Long Islander's, it's a fascinating read for ghost enthusiasts everywhere.