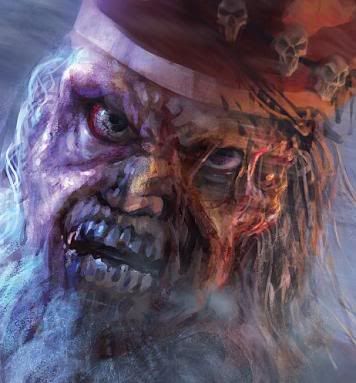 In the past several weeks we've been given a double feature of killer Santa action, in the form of trailers for two upcoming foreign horror flicks ; the Dutch Sint and the Finnish Rare Exports : A Christmas Tale. Dig on the equally awesome trailers below if they've somehow slipped under your radar!





While I do consider Halloween to be my favorite time of the year, i'm as much a fan of Christmas and there's really no greater pleasure for me than seeing Santa Claus tear some motherfuckers apart. While those of us here in the states are gonna have to wait till after this Christmas to get our hands on Sint and Rare Exports, two flicks which promise to be yearly watches for yours truly, there are thankfully other places we can go to get our fill of killer Santa's. Here are six other Santa on the prowl horror movies for you to seek out this Christmas, along with a short film that you can watch right here, right now!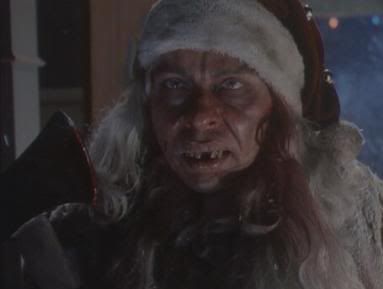 Tales From The Crypt : And All Through The House - 1972 & 1989

This EC Comics Tale of a killer wife coming face to face with a killer Santa is so awesome that it was not only brought to life in the original Tales From The Crypt anthology movie, but also the first season of the television series. While I do love the Joan Collins starring movie adaptation, i'm more partial to the TV version, both because it brings back childhood memories and because the killer Santa was played by none other than Dark Night of the Scarecrow's Bubba, Larry Drake!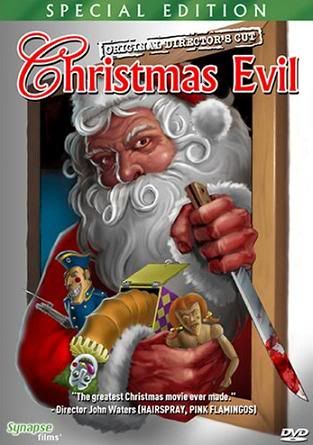 Christmas Evil - 1980

The Walking Dead's Jeffrey Demunn plays the brother of the killer Santa in this one, a deranged man who is forever changed after seeing "Santa" sexually assault his mother one Christmas - the alleged Santa was actually Harry's father and the sex was totally consentual. Convincing himself he is actually Santa Claus, an adult Harry snaps and goes on a killing spree, a spree which concludes in an unexpectedly sad and somewhat beautiful fashion. Filmmaker John Waters considers Christmas Evil to be the best Christmas movie of all time and even provides a fan commentary track on the most recent Special Edition release of the flick (seen above).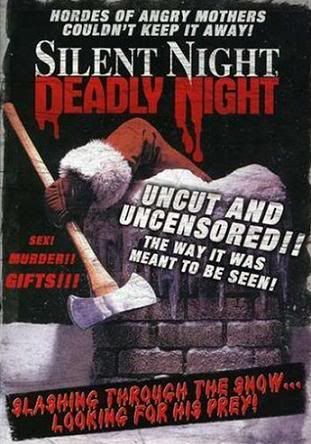 Silent Night, Deadly Night - 1984

Though a killer version of Santa had been brought to the big screen four years earlier, it was Silent Night, Deadly Night that brought about public and critical outrage, with Siskel and Ebert famously condemning it and parents around the country protesting its release. Of course, all of this only added to the films appeal for genre fans, and Silent Night, Deadly Night is still to this day considered one of the best Christmas horror films of all time, second only to perhaps Black Christmas. I personally rank it as one of my favorite slashers of all time, no matter the time of year.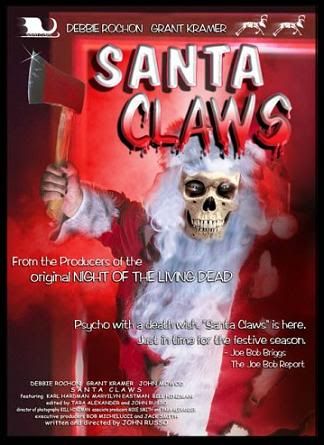 Santa Claws - 1996

Borrowing heavily from the plot of Christmas Evil, Santa Claws also begins with a young boy witnessing his mom get bedded by a dude dressed as Santa. He snaps, kills them both and then grows up to be a Santa suit wearing mass murderer. Written and directed by John A. Russo, one half of the writing team of the original Night of the Living Dead, Santa Claws is the worst Christmas horror flick i've seen to date, one that should only be watched by those who simply have to see every single movie in existence about a killer in a Santa suit. Though I haven't seen either of them, i'd venture to guess the double feature release of Psycho Santa & Satan Claus also falls under this umbrella.




Santa's Slay - 2005

Jewish pro wrestler Bill Goldberg (oh, the irony) stars as the son of Satan, an evil motherfucker who lost a bet with an angel that forced him to be jolly old Saint Nick for 1,000 years. With the bet over, 1,000 years of pent up anger are unleashed on all who come into contact with Goldberg and his 'slay', which just so happens to be pulled by a massive demon bull. What ensues is one of the most fun holiday movies out there, one that I simply cannot let a December pass without enjoying at least once. It's pure cinematic gold as far as i'm concerned.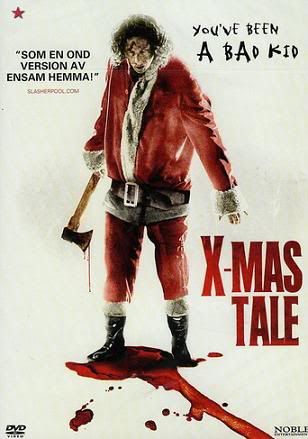 The Christmas Tale - 2005

Directed by REC's Paco Plaza and available exclusively in the Six Films To Keep You Awake DVD set, The Christmas Tale is totally unique in that the killer Santa is a chick. After a group of kids find her in a deep hole and realize she's a fugitive robber, they decide to keep her in there in the hopes that she'll hand the stolen money over to them in return for her freedom. Things don't work out as planned and the killer Santa gal eventually finds her way out of the hole and, as the poster suggests, tracks down an axe. Really cool little flick that I highly recommend you check out this holiday season.



Since you've been good boys and girls and read this whole post, here's a little treat that you can enjoy without waiting for these little holiday horrors to arrive in your mailbox. It's a short film produced by Alex Pardee called The Winter Stalker, which plays with the idea that though his intentions are pure, the way Santa Claus goes about doing his business is undeniably creepy. Enjoy!