This Thanksgiving, one of the main things i'm thankful for is you guys, all of you out there who continue to come here on a daily basis and listen to me rant and rave about all the things I hold near and dear to my heart. This blog has been such an incredible outlet for me the past couple years and I honestly don't think I could ever go back to life without it and all the awesome people i've met through it. So thank you from the bottom of my heart and I wish you all a wonderful and happy Thanksgiving.

As a way to show my thanks to all you loyal readers out there, i've concocted a plan to give you guys some cool free shit over the course of the long holiday weekend, a plan that has been in the works for the past couple weeks of giveaway gathering and a plan that will be put into effect right about ... NOW!

For the first giveaway of the weekend, i've got one of Cryptic Cotton's new Deadgirl t-shirts up for grabs, as seen below modeled by the beautiful star of Deadgirl and friend of Freddy In Space, Ms. Jenny Spain!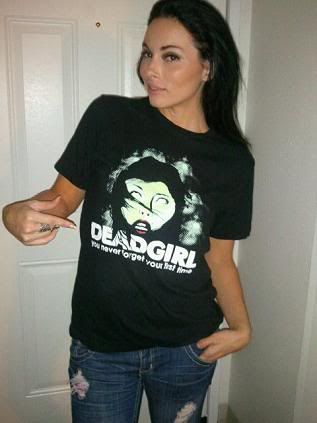 Deadgirl is one of my favorite horror movies in recent years and thus, I am honored to be giving away this officially licensed t-shirt today. Here's a little info about Cryptic Cotton followed by all the details you need to know in order to put your name in the running!



Cryptic Cotton

Fairly new to the horror inspired t-shirt scene, Cryptic Cotton sets themselves apart from the pack by focusing mainly on true crime apparel, with clever shirts depicting the likes of serial killers such as Ed Gein, John Wayne Gacy and Albert Fish. The shirts are certaintly not for everyone, but Cryptic Cotton delights in being a company exclusively for those of us sick fucks with a morbid and twisted sense of humor who get a kick out of wearing a shirt with Albert Fish's face on it that says "Albert's Fish & Chips - Eat Kids Free!". Much like myself, the folks behind the company are, naturally, hardcore fans of Deadgirl, taking it upon themselves to create and share with the world the one and only shirt out there that pays tribute to the disturbing flick. And that brings us about up to speed ...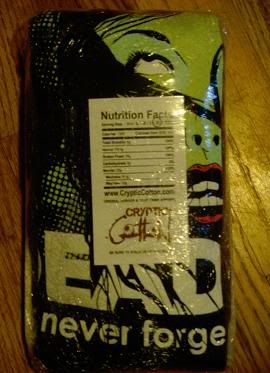 Up for grabs I have one size XL Deadgirl t-shirt, packaged in Cryptic Cotton's trademark faux meat packaging, nutritional facts card and all. Here's all you've gotta do to enter!

- Earlier this year I had the pleasure of interviewing Jenny Spain. Find the interview and then drop me an e-mail at MORTIS45@AOL.COM with the subject "DEADGIRL GIVEAWAY" and the name of one of the allegedly haunted places Jenny has investigated, an answer that can be found within that interview. Deadline for entries is next Thursday, December 2nd.

Good luck and again, thank you and happy Thanksgiving!!