Today Freddy In Space's own Jesse Bartel stops by to tell you about the recently released 'Zombie EP' by one of his favorite bands, The Devil Wears Prada. Afterwards, we present you with the opportunity to win a copy of your own!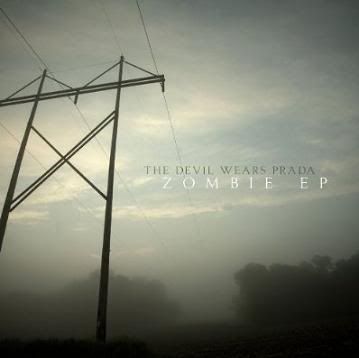 The Devil Wears Prada released the Zombie EP after recording in the summer of 2010 between tours. It consists of 5 songs which describe a zombie apocalypse in a semi-narrative form. Completely topping their last efforts in terms of instrumental and lyrical arrangements, they have succeeded in creating a masterpiece. I have a fondness for this band and I know a lot of metal-genre enthusiasts write them off as a hipster group. This may have been true a few years ago bit ever since their 2009 release of 'With the Roots Above and the Branches Below', they have developed their own style and found authenticity.

The album starts off with the sound of an approaching storm with a string section accompanying it. This in itself helps define TDWP, they are able to blend harmony with cacophony and make it sound so very powerful. The instruments then kick in with a blast metal beat and singer Mike Hranica's growling screams. After that, the album beautifully goes by in a flash, too soon if you ask me but it would leave too much room for error if it were longer. The lyrics themselves are great, detailing a survivor's journey through the wasteland. Though it is not vividly painted for us who this person is, we can a sense about what is going on in the narrators head. There is not a bright light at the end of this tunnel for the listener; you will not find a happy ending. The track "Revive" focuses on the fall of science as being a solution. The song states:

"Science has become a child's game.
There is no solution to bring away this plague.
No remedies have been discovered.
The cure is a shotgun; the cure is whatever blunt instrument one can salvage.
Whomever finds themselves too proper will be the first to perish."

All the other tracks run with a theme as well, "Anatomy" talks about the disease itself and what it does to the individual. "Outnumbered" deals with grouping together and finding some sort of sanctuary, so on and so forth. Though they proclaim to be religious, you will not find any real sentiments about god here, which is fine no matter how you look at it. Everywhere in the album there are a number of interesting sounds other than the instruments. Throughout you will hear guns cocking, shooting, glass breaking, people screaming, zombies moaning, and chainsaws. YES! The opening of the second track "Anatomy" has a chainsaw before the music kick in. A FUCKING CHIANSAW! Need I say more?



Musically they are at the top of their game; every track is solid and riffy. There is a lot of nice clear guitar work that you can actually hear, not all muddy like some of the newer bands sound. Hranica sounds pretty much the same, growling voice that fluctuates between low and high screams. Jeremy DePoyster, who plays guitar and does clean vocals, sounds dramatically less whiny on this record. Which was a big problem I had with their earlier works because he sounded a bit too "scene" to me. Every track shines but I do have a problem with the last track entitled "Survivor." Not that it's a bad track; the lyrics are great and focus on the character in cornfield thinking about all he/she lost. The instrumentals don't have that punch that you see in the previous tracks, it doesn't really grab your attention but I can overlook that. The lyrics speak volumes to loss and change.

"I will never see through this nightmare.
I will never know sunlight again.
I will never see through this nightmare.
I will never taste her lips again."

With those closing words there is the sound of children laughing faintly in the background as we assume the character is looking out from the farmhouse. I really wish I could post every lyric but I have already taken up a lot of space. This album is a more introspective journey much like The Walking Dead and we know that there is never a good ending to a real zombie apocalypse. The bottom line is if you like metal or TDWP, then pick this up. If you didn't like them early on, this album will probably change your mind. All in all, it's an awesome metal album and you need not miss this.

Happy Stabbings

-Jesse

______________________________________________

To enter to win, leave a comment below with your e-mail address and a brief little snippit on why you want this CD. Giveaway is open to EVERYONE and deadline for entries is next Sunday, December 5th. Good luck to all and thank you Jesse for this write up and giveaway!