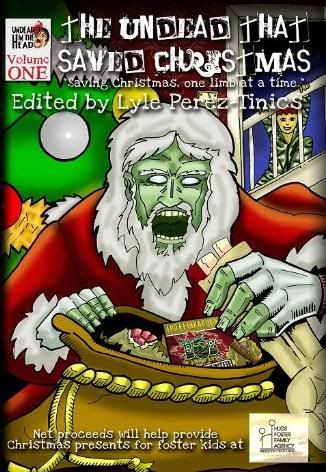 Zombies have gotten a pretty bad reputation over the years and nobody is to blame for this reputation but themselves. Be it feasting on the flesh of innocent humans or turning various different worlds into hellish war zones, zombies have pretty much exclusively done bad shit over the course of their existence. Well this Christmas they're looking to change all that and they're hoping one massive act of good will help humanity forget all the bad they've done, at least for a brief period of time. This year, the undead are saving Christmas.




Lyle Perez-Tinics, creator of Undead In The Head, a site specializing in reviews of zombie themed books, has partenered this year with a slew of talented authors and artists to bring his brainchild to life ; a zombified take on the holidays in the form of an anthology book. Appropriately titled The Undead That Saved Christmas, the 288 page book is absolutely chock full of short stories, poems, carols and comics, all tying together the seemingly polar opposite worlds of zombies and Christmas - for my money, a match made in horror heaven.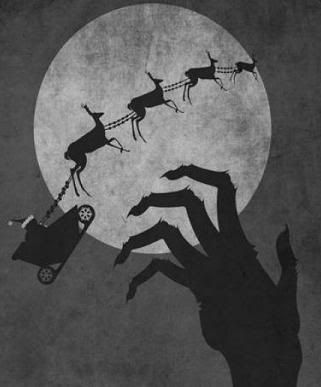 So we've got the undead part and we've got the Christmas part, but where does the whole 'saving' thing come into play, you may be asking yourself? ALL net proceeds from the sale of the anthology book will go directly to the Hugs Foster Family Agency, a charity organization that will use the money to buy Christmas gifts for children in need. All sales made between now and the end of this week will be used to buy gifts this year, while any sales made after that date will be used next Christmas. So if you want to make a difference this year, please consider picking up a copy this week and supporting the cause. For just $14.99 you will not only help bring Christmas into the lives of children who otherwise wouldn't experience the joy that comes along with the holiday but you also get a highly entertaining book packed with tales the likes of Living Dead Babes In Toyland, Rudolph The Undead Reindeer, GingerBrains, The Legend of Zombie Claus and Snow Day of the Dead. It's truly a win-win for all.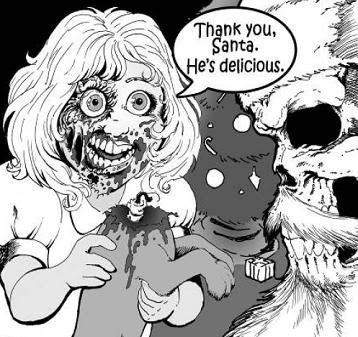 CLICK HERE TO BUY THE BOOK TODAY

I've personally been delving into my copy for the last couple nights and i've been enjoying the hell out of all of the creative tales of Christmas carnage. With almost 30 tales in all, it's looking like i'm gonna be entertained on a nightly basis right up until the big day!