I just want to take a moment this morning before I head off to endure a hellishly busy day of work to give a quick shoutout to the most severely underrated Christmas horror movie out there, a movie I finally got around to watching for the very first time the other night. Shot in 1989 and released on VHS by A.I.P. Home Video, it's called

Elves

and as of this moment, it has not yet been given the DVD treatment. One look at the plot description below will show you that this is a criminal injustice of the highest degree ....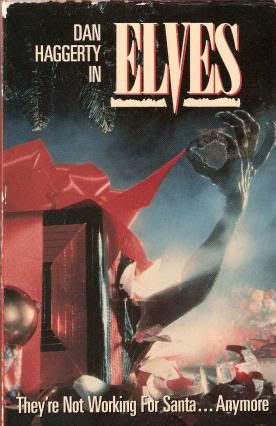 An innocent romp in the woods turns into a hellish nightmare when three young girls accidently awaken an army of evil "Elves" - genetically created by a Neo-Nazi mad scientist during World War 2.

These hideous creatures don't work for Santa ... they have a special mission : to mate with a virgin and take over the world as a pint-sized master race!

Dan Haggerty stars as Mike McGavin, a department store Santa who must expose this unholy force and stop the gruesome terror before the Elves destroy Christmas.


Now i'll admit, the movie doesn't and simply could never live up to the movie you probably just created in your mind after reading that back cover description, but

Elves

- which actually only features one Nazi elf - is nevertheless a piece of true cinematic gold, the kind of off the wall flick that could only be an export of the glorious 80's. Though i'm sure the movie does have a substantial underground cult following, I don't think i've ever actually had anyone mention it to me or implore me to see it, and I consider it quite an injustice that I went 24 years without doing so. In an effort to make sure you don't go a day longer without

Elves

and the transfixingly hammy Haggerty Claus in your life, I urge you to watch the below clip I just uploaded from the movie, which pretty much sums up its unparalleled awesomeness. Behold what just might be the greatest scene in the history of film.



Kickass old school creature effects, inbreeding, a chain smoking Santa and a sinister Nazi elf join forces in

Elves

, simply the very best Christmas horror movie you've never seen and maybe even one of the best B-movies you've never seen, for that matter. I advise you to find a way to change that real soon!

Though not available on DVD, Elves can be picked up on the format from VHSPS.COM for only 10 bucks. Use the Freddy In Space exclusive code BOOTS to receive 10% off your order!