Truth be told, i've always been more excited about giving my friends and family gifts on Christmas than I have been about receiving them myself, even back when I was a kid. Because of this, I like to think i've become a pretty good gift giver over the years. Now that you've seen some of the awesome horror themed goodies I was given this year, I wanted to show you guys some of the stuff I got for Jen. It was our first Christmas in our own place together and just like the previous two Christmas'es we've spent together, it turned out looking a bit more like Halloween than the traditional Christmas!





I knew I wanted to bestow upon Jen her first Living Dead Doll and I couldn't believe my eyes when I stumbled upon this one from the Dia De Los Muertos series, rocking makeup pretty similar to the makeup Jen decked herself out in this past Halloween. I never really realized this until I held one of these things in my hands, but these Living Dead Dolls are really really cool and i'm pretty sure I want one for myself!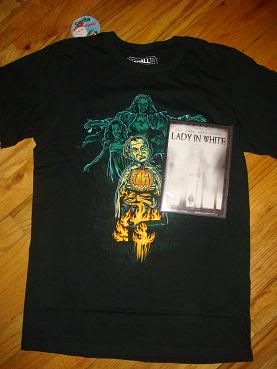 Lady In White is one of Jen's favorite movies, one we somehow didn't yet own, so I went with a double feature gift of the DVD and new Fright Rags t-shirt.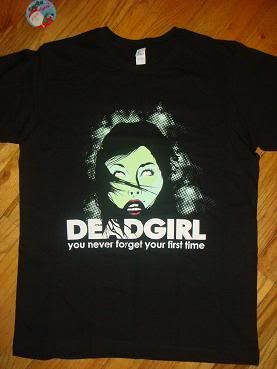 Another one of her faves is Deadgirl, and Cryptic Cotton's Tim Francis hooked me up with this awesome shirt they just released a couple months back. Thanks again Tim!





But Jen's all time favorite horror movie is Lucky McKee's May and I gotta give a huge thanks to artist/doll master Mike Smash for custom making these earrings for her.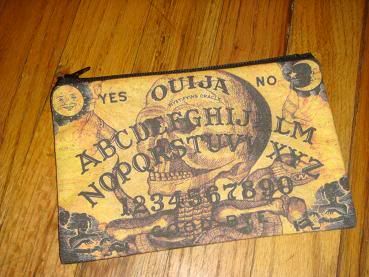 Speaking of custom made, this is the perfect example of why I spend hours upon hours on Etsy around Christmas time. I intended on this pouch being a little stocking stuffer but once I got it in the mail and saw how well made it was, I decided to give it the wrap treatment. Here's the link if ya want one for yourself.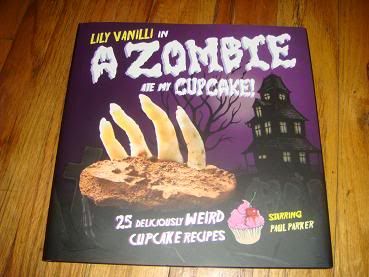 This cookbook, chock full of pictures of/recipes for all kinds of horror themed cupcakes, made a real nice companion gift to the countertop cupcake maker I got for her, a device I hope she puts to use real soon!





How's that for a stocking stuffer? Gotta brush up on our Rocky Horror in preparation for the next wild and crazy Monster Mania midnight showing!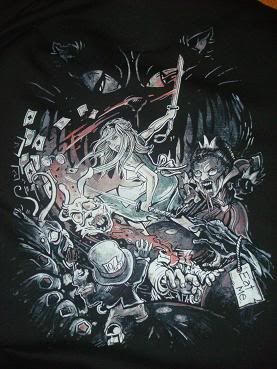 This Alice in Zombieland hoodie caused me much stress around the big day, being that I ordered the wrong size and had to pay the extra dough for next day air to get a replacement in time for Christmas. Thankfully, Threadless doesn't charge much for such a service and everything ended up working out in the end, as the first hoodie I got ended up fitting me and so I decided to keep it for myself. Gotta say, I always thought Threadless was a Cafe Press kinda site, with images printed on bad quality shirts, but I was really impressed with not only how well made this thing is, but also how good their service is.





Picked up this great little stocking stuffer at Forbidden Planet in the city, during my recent trip there with Zach Shildwachter and Kristy Jett.





When it comes to wine, it's all about the cool names and labels for me and I always try to find a few unique bottles as gifts every year. I think this one took the cake, named and designed to look like a vintage horror movie poster. It's the kinda bottle that's almost too cool to drink. Almost.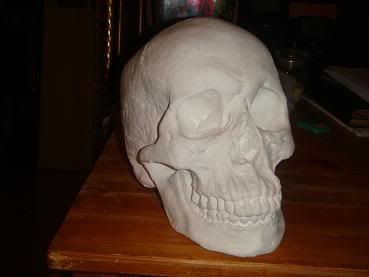 I can't take credit for this last one, as much as I may wish I could. This replica skull was what our friend Jackie got for Jen for the little Secret Santa we did. Coolest of all, this was apparently pulled from a mold made from an actual human skull. Not sure where she got it from, but Secret Santa gifts don't get much cooler if ya ask me!


And that about wraps up Christmas 2010. As expensive and stressful as it may be, I honestly can't wait to do it all over again next year!