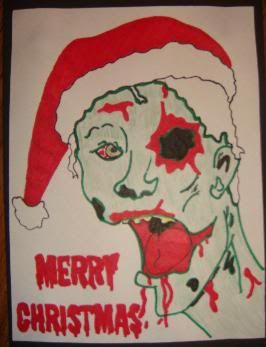 As a sit here typing on a fancy new lit up keyboard, staring at a much larger new monitor, I can't help but feel that I just experienced the best Christmas ever this past weekend, both in terms of gifts given and received and in terms of quality time spent with family. While you may think i'm all about Halloween, Christmas is actually my favorite day of the year, mostly due to the last part of that last sentence. But sappiness aside, getting a few gifts is always pretty awesome too and I gotta say, I got some pretty cool new things this year ; which brings us to the obligatory bragging about new shit I got for Christmas post. Being that this is a horror blog, i'll only cover that kinda stuff, rather than drooling over the new barbecue, 3D tit book, snowboarding goggles or Christian Slater/Patricia Arquette True Romance signed photo I received (merely a cool piece of movie memorabilia to some ... one of the most meaningful gifts of all to Jen and I). So here's all the awesome horror shit I got this year, courtesy of family and friends!





Christmas kicked off with a bang at work on Friday with Jesse Bartel (who posts on here from time to time) giving me this Hatchet shooting script, signed by Adam Green. Awesome display piece as well as some of the best reading/inspirational material out there!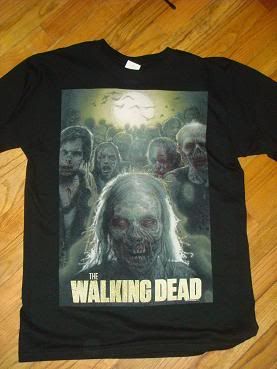 My brother's girlfriend Jess, spending her first Christmas with our notoriously over the top gift giving family, got me this awesome Walking Dead t-shirt, which i'm sporting at this very moment, eagerly anticipating next year's return of the show!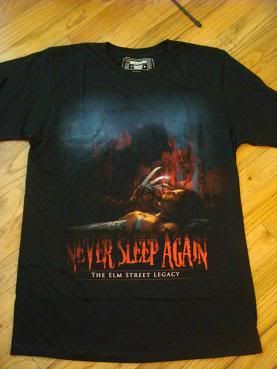 Jen surprised me with the limited edition Fright Rags Never Sleep Again shirt, which I quite frankly thought came out too late to arrive in time for Christmas.





She also got me a double feature gift of the new Weekly World News Bat Boy book and bobble head. Glad to see that WWN has finally realized the marketing power of their whacky creations and I hope to see more toys based on their cover art oddities in the future. If only SyFy would follow suit!





DVD's & Blu-ray's galore, from Jen and my brother ; Oldboy and Scream on Blu-ray and Header, Offspring, Roman, They Live, Tales From The Crypt Season 3 and True Blood Season 1 on DVD. Jen normally stays away from getting me DVD's, fearing that I will either have or not want anything she gets me, but she decided to go for it this year and ended up with some great stuff that I either haven't seen or have been dying to own. My brother picked up Scream for me, which I somehow have never owned on any format and which is not even available on Blu-ray in the states yet.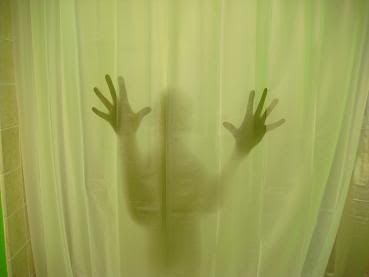 Jen and I had been in need of a new shower curtain, a need that was more than adequately filled with this gift from my parents. Anyone else immediately think of the Human Centipede DVD cover when they see this?





As you can probably tell by looking at them, these are vintage Halloween stickers, released way back in the 80's. I'm a total sucker for vintage Halloween goods, as Jen showed she is well aware by getting me these bad boys, which will of course remain in package.





Last but not least, the parents got Jen and I this Blood Bath Shower Gel, which I initially figured i'd keep as a display item in the shower, a decision I have since questioned based on the delicious smell emanating from it. Needless to say, with the new shower curtain and this little treat, our bathroom is just about catching up to speed with the decor in the rest of our house!


Thanks to my brother, parents, Jen, Jess and Jesse for all the awesome gifts! And thanks also to our friend Jackie, who drew up that awesome Christmas zombie image at the top of the post, which was the front of the Christmas card she sent us. Yes, there are a lot of J's in my life!