Believe it or not, 2011 marks the 13 year anniversary of the birth of the Living Dead Dolls, a continuing line of horror inspired dolls ranging from original pieces to depictions of iconic genre characters. Started by Ed Long and Damien Glonek way back in 1998, the dolls were individually handmade until the company was picked up by Mezco Toyz two years later, who still produce the dolls on a regular basis to this very day. In celebration of the 13th birthday of these creepy little creations, I thought it only fitting today to take a look at 13 of the coolest dolls that have come out over the years. So in no particular order, here are 13 of my favorites!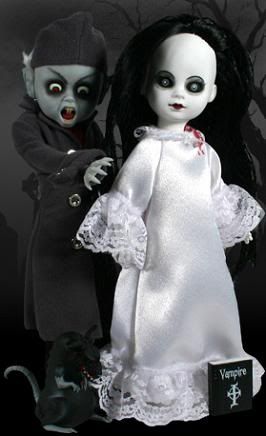 Nosferatu & Victim

Released in 2003, this set is the first in a long line of Living Dead Dolls Presents... dolls, all based on well known characters from the world of horror. It was an exclusive to Diamond Comics, the largest distributor of comic books in North America.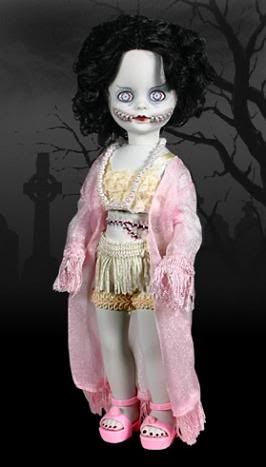 Dahlia

Part of 2003's Series 5, this highly morbid and controversial doll was only the second in the main line to be based on a real person, with the first being Series 2's Lizzie Borden and the third and last being Series 15's Elizabeth Bathory. Based on tragic murder victim Elizabeth Short, this doll was released in both color and black & white versions.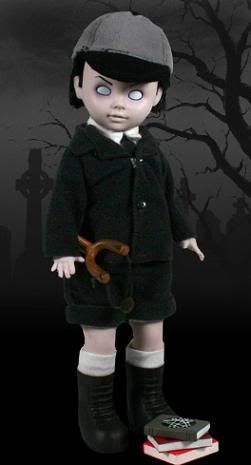 Damien

One of the first dolls ever released by Mezco in series 1, Damien showcases how far Living Dead Dolls have come over the years. While figures like this one were clearly inspired by and named after characters from horror movies, it wasn't until a couple years later that Mezco started picking up licensing rights to movies, allowing them to officially produce dolls based upon those characters.






Sadie Pencil Sharpener

Over the years, Mezco has branded out the line of dolls to create everything from lunch boxes to pencil sharpeners, the latter of which comprised a small line of only two back in 2003 and has since become very hard to find. The pencil is inserted into Sadie's bloody eye hole and then the shavings come out of her mouth, giving you a super sharp pencil in the process. Little fun fact ; one of these was featured in a scene in Brad Pitt and Angelina Jolie's Mr. and Mrs. Smith!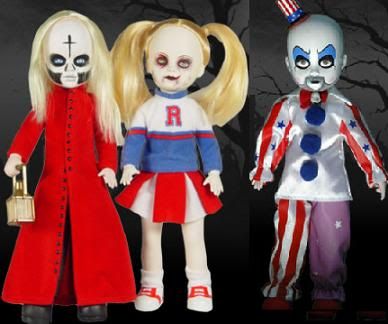 House of 1000 Corpses

These are actually two seperate entities, though it seemed only fitting to combine them. Otis and victim Cindy were released in 2007 and Spaulding was released in his own box the next year.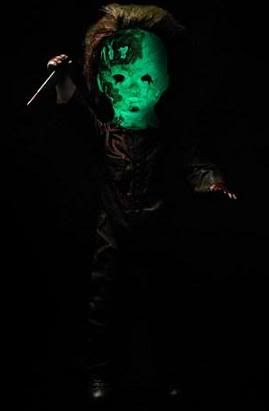 Glow in the Dark Michael Myers

This variant was released in 2009 and was exclusive to Mezco Direct, limited to a fitting 666 pieces worldwide. To the best of my knowledge, it's the only Living Dead Doll to date to utilize the glow in the dark feature.






Fashion Victim Sybil

2003 saw the release of a Fashion Victims spin-off line, which lasted only two series. The dolls were given breast reductions in the second series and Mezco did away with the "Deadmate of the Month" posters that the first series came with, which featured the dolls in provocative poses. Sybil came with interchangeable outfits, one being a strait jacket and the other being Clockwork Orange inspired digs.






Freddy Krueger

Last year, Mezco released not only this Krueger from the original Elm Street, but also one depicting Jackie Earle Haley's Freddy from the piss poor remake (seen here).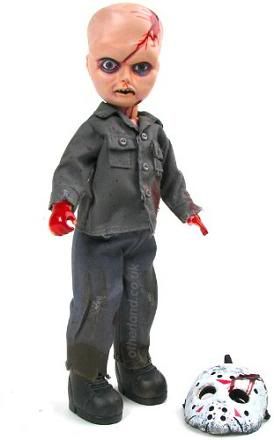 Jason Voorhees

Much like with Freddy, Jason also got a Living Dead Doll for both his more favored original look and one for his revamped remake design (seen here), both featuring removable masks. The original Jason, released in 2006, was exclusive to the San Diego Comic Con and Wizard World Chicago conventions.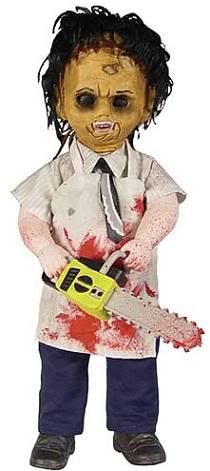 Leatherface

The original look of Leatherface got the doll treatment in 2007, with a remake version yet to be released. Though one of Leatherface from Chainsaw 2 was glimpsed at during Comic Con 2008 (check it out), it to the best of my knowledge was never actually put out.






Retro Halloween Set

2010 saw the release of my favorite thing that's ever been done with the line, when a series of three vintage Halloween packs were released, each featuring an exclusive doll, a t-shirt and a vintage looking Halloween mask based on the doll. Can't help but think Halloween 3 when I see these all together.






Billy The Puppet

Proving that Saw has become one of the most popular horror franchises of all time, Billy was given the Living Dead treatment last year, putting him up there with iconic villians like Freddy, Jason, Leatherface and Michael Myers.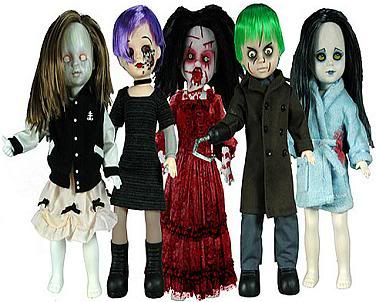 Urban Legends

Series 7 was the first where all the dolls had a common theme, which continued in series 17 with the release of an Urban Legends line, with all dolls serving as the incarnations of some of the most popular urban legends out there. Featured in the set were The Vanishing Hitchhiker, Spider Bite, Bloody Mary, The Hook and Unwilling Donor.






Honorable Mentions (aka they're just as cool but I had to limit it to 13!) ; Big Bad Wolf and Little Red Riding Hood (coming March of this year), Beetlejuice and Lydia, Alice In Wonderland set, Dia De Los Muertos series and Living Dead Dolls head lights (which hang in my bedroom!).


Happy Birthday, Living Dead Dolls. Here's to many more!