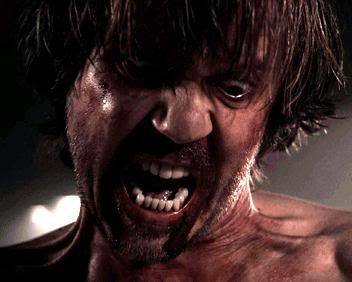 (David Spade is totally pissed!)

One of the qualities in my girlfriend Jen that I truly cherish is her ability to dissect movies and really allow herself to see the big message that sometimes, in the case of a lot of movies we watch, lies buried behind a wall of blood splatter and brain matter. I've always said that I could never be with a woman who didn't genuinely enjoy watching movies and allow herself to be moved by them and I couldn't be happier that I found one who possesses both of those qualities. The reason I bring this up tonight is because Jen and I had a quiet little dinner at a nearby diner earlier and she talked to me about some issues she's going through with her job and how she was heavily inspired to stand up for what's been going on over there by a movie we watched the other night. That movie, which might surprise you to hear, was A Serbian Film.

While most females, and most males for that matter, would be far too repulsed by the subject matter of A Serbian Film to even watch it much less dig into it and find the true meaning behind the grotesque images put on screen (which are unfortunately the only thing any review really even addresses), i'm proud to say that Jen not only endured it and saw the message lying within its dark heart but also used the film as inspiration to stand up against the big corporation fucking her and her fellow employees in the ass on a daily basis, something all of us put up with for the almighty dollar, an issue that is addressed heavily in A Serbian Film. In a nutshell, this is why I love her and I couldn't be prouder that she's fighting the good fight and sticking up for what she believes in, and what she believes is best for her fellow employees and customers, and I just completely love the fact that this movie really got the ball rolling for her to do so. Here's her story in a nutshell ...




Jen has been a pharmacy tech at a big name pharmacy for nearly the past decade and things have been getting pretty untolerable for her as of late, which reached a boiling point this past Monday night. Her and her entire staff have been under pressure lately to convince customers to sign up for programs that they don't want to, and that don't really benefit them, which has led to increased tensions between the whole staff and a serious loss of customers to boot. Realizing the company is not looking for the best interests of their patients but only in the lining of their own pockets and fed up over the fact that she gets shit on on a daily basis to the point that her job is a living hell, forced to take it all with a smile on her face, Jen was pretty upset Monday night and didn't know what to do. After spending much of the night on the phone with a fellow employee who was ready to throw in the towel and quit her job, after Jen had spent the past year training her, I was thinking our plan of watching A Serbian Film should've been pushed off until the next night. Well, we ended up watching it and as it turned out, it was pretty much just what she needed.

The main thing both Jen and I took from the film was the message that all of us are continually screwed over and jerked around on a daily basis, from the day we're born to the day we die, and even after our deaths sometimes, and in a certain way we found it empowering that such a message was being expressed in a film, comforted by the fact that others share in that feeling. I'd like to state that the movie has other meanings which i'm sure others will see in it, but this is personally what the two of us took from it. In any event, the day after watching the movie, Jen decided to stand up for what she believed in and speak out against the abuse of both her staff and the customers, which she credits the film for inspiring her to do. While the movie itself goes the more bleak route of not having the good guys become empowered and triumph over the evil, I think it was the extreme nature of the way the director went about expressing the idea of us all being made to do things we don't want to do and getting screwed over constantly in the process that really hit a nerve with Jen and made her realize that she doesn't want to be another victim of that system and that her life is in her own hands, the anger of the material pumping her up in much the same way listening to heavy metal would pump someone up before heading out to the gym. Such is the power of a powerful movie, I suppose.

I know this is a little personal and maybe not what you guys would normally expect to see when you log onto the site, but my hope is that this story made for a compelling post and also served as proof that while a movie like A Serbian Film may be totally over the top sick and depraved, that doesn't mean there isn't a reason and a message behind its depravity. Sometimes, especially in our jaded society where we're ingesting the sickest of images and stories on a daily basis on TV and in newspapers, it takes really over the top material to get a point across. Though I can't say I enjoyed watching A Serbian Film and again, can't recommend it to most people, I can't help but fully respect it for presenting a thoroughly thought provoking message and for having the balls to do it in such an extreme way that that message hits hard for those willing to take something from it.

Check out my review of A Serbian Film if ya haven't yet.