As i'm sure you're all aware, Piranha 3D hit DVD, Blu-ray and 3D-ray this week. To celebrate this release of one of my favorite horror flicks of 2010, i've decided to bring a little Piranha action into the life of one of you lucky fuckers out there. No, I haven't been given a copy of Piranha 3D to giveaway and no, I haven't been given one of the original Piranha either ; sorry, but I do insist that you pick up both for yourself real soon! What I do have to offer is a copy of The Asylum's Mega Piranha on Blu-ray, SyFy's most watched movie of the year and a film I consider to be the hands down best worst movie of 2010. If it means anything to ya, I shelled out my own money for this giveaway prize, though I must confess it was only a measely 5 bucks at Best Buy. Scroll past the sweet ass cover art for all the entry details!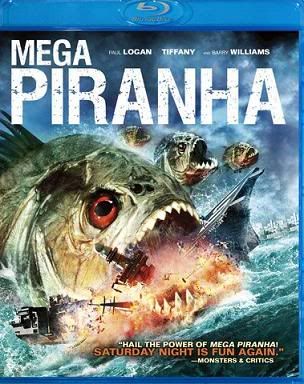 To enter, leave a comment below with your e-mail address and your own creative answer to the following question :

- SyFy has given you the opportunity to create a mega beast for their next original picture. What beast do you give the super sized treatment?

Giveaway is open to everyone and will run through the week, which means it will end promptly at midnight this Sunday the 16th. Good luck to all and stay outta the goddamn water!