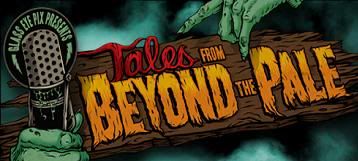 Glass Eye Pix, the creativity fueled indie studio run by Larry Fessenden that brought us flicks like House of the Devil and I Sell The Dead, kicked off an exciting new series October of last year called Tales From Beyond The Pale, a series of 30 minute downloaded radio plays created by some of todays leading names in the horror genre. Bringing the kind of macabre radio stories Boris Karloff and Alfred Hitchock helped make famous into the digital age, these short but sweet tales are for the horror fan on the go, delivering dark and twisted stories in a fast paced and straight to the point fashion. All but one episode of season 1 of the series is currently available for download on the website for $1.99, with the final episode hitting next Tuesday and all episodes coming to iTunes, Amazon and other outlets real soon. The series will also be released on a compilation CD in the future. Check out the official Tales From Beyond The Pale website to listen to any or all of season one's episodes, which feature directors like JT Petty (writer/director of S&MAN) and Jeff Buhler (writer of The Midnight Meat Train) and familiar genre stars such as Hellboy's Ron Perlman, Phantasm's Angus Scrimm and Hatchet 2's AJ Bowen.




Being a huge fan of Paul Solet (writer/director of Grace), the first episode of the series i've checked out thus far is The Conformation, a twisted tale of two perfectionists - plastic surgeon and patient - who join forces to live out their gruesome desires. Solet originally planned on turning the story into a feature film but jumped at the chance to tell it within the confines of a radio play. Full of grotesque sounds, the play conjures up some gruesome images in your mind, without ever even showing you anything. Intro'd and outro'd by Larry Fessenden, like all the episodes are, it plays out like an audio only Tales From The Crypt episode. If The Conformation is any indication of the quality of the rest of the Tales From Beyond The Pale, i'd say all of us horror fans are in for a real treat with this series.

For only $1.99 an episode, you really can't go wrong. Check one of the stories out for yourself and leave a comment with what you thought of it!