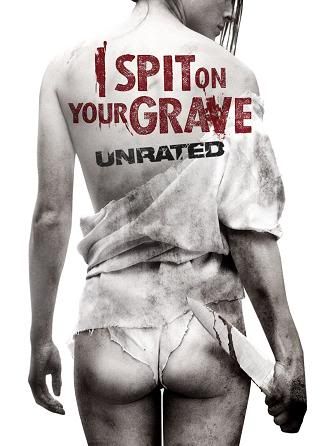 OUT NOW ON DVD & BLU-RAY!

Though they're not the firsts of their kind, I don't think anyone can argue that the two most well known and oft imitated exploitation flicks in the rape revenge sub-genre are The Last House on the Left and I Spit On Your Grave, points evidenced by the fact that they've now both been given the remake treatment. Coming first with a highly competent face lift was Last House, an impressive redux that managed to not lose any of the disturbing factor of Craven's original, despite a much larger Hollywood budget and actors whose faces we recognize. Next up on the chopping block was I Spit On Your Grave, a smaller budgeted remake that saw only limited release last October, and which I finally got to see tonight now that it hit DVD this past Tuesday. Though not nearly as impressive or well executed as I found the Last House remake to be, I Spit 2010 worked pretty well for me as a remake to a 70's exploitation flick which these days comes off kinda dated, making it a fairly competent modern day telling of a story we've already been told before. But that's just the thing; we've already been told this story before and there's not much new added to that story to keep us interested in watching it play out again.

As should be the case with a film such as this, the first half (the rape half, if you will) is pretty damn disturbing, leaving any compassionate viewer with a strong desire to see all the sick rapists (including the fat gay dude from Mean Girls and Joey Crusel from Elm Street's 3 & 4) get there comeuppance. As far as that half is concerned, I really don't have much bad to say about the film, other than in regards to the cliches of both character and set up that run absolutely rampant. The scenes of Jennifer Hills (Sarah Butler, who totally rocks the role) walking away from her attackers after being raped are downright haunting and the rape scenes themselves are hard to watch, both because of their brutality and the utter humiliation Jennifer is put through in the process. None of it is enjoyable to watch, but that's afterall the entire point.

Which brings us to the revenge portion of the film. By the very nature of how much hatred we're filled with towards a group of filthy men who rape a beautiful woman, seeing them killed is naturally satisfying. That being said, I found the revenge half of the film to not be as satisfying as I wanted it to be, even if Jennifer does some pretty nasty shit to those who wronged her. Maybe i'm just desensitized to violence these days, but I couldn't help but feel like there wasn't enough brutality to the revenge, which probably had a lot to do with the fact that Jennifer goes more Jigsaw than she does Beatrix Kiddo, only actually killing one of the men with her own hands (in a kickass scene that calls back to the most memorable one from the original). The traps she sets feel more like exciting and almost comical slasher movie death scenes rigged up by a MacGuyver-like professional killer than they do raw and brutal revenge scenes at the hands of a woman who has been raped several times over, which is what I was personally looking for and which would've done the first half of the film more justice. In the original, Jennifer hacks apart one of the men with an axe, slices another with a boat propeller and hangs yet another from a tree. In this one, she just kinda sets traps and lets the victims themselves finish the jobs. So while the first half perfectly built up the payoff to come, I couldn't help but feel like it never truly came. That being said, we do get some pretty cool revenge scenes (all done with practical FX), they just kinda felt like they belonged in a different movie to me.

Final verdict? I Spit 2010 is a pretty decent remake that should both disgust and entertain most fans of the original, as that film did, it just could've been a whole lot better if it brought some more new elements to the table and had a more satisfying second half payoff. By the time the credits roll it just feels fairly pointless and empty, leaving one with not much else to take away from it than a big time respect for stunning young star Sarah Butler. I'd say she's one to keep an eye on in the years to come.