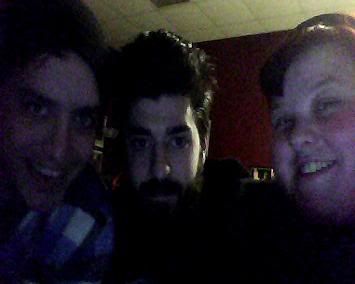 As I said, the main reason Zach Shildwachter and I headed into Rochester this past weekend to meet up with Kristy Jett was to work on a screenplay, which is precisely what we ended up doing ... between sessions of eating great food, drinking cheap beer and watching oodles of increasingly vile and disturbing porno bloopers. As much as i'd love to, I unfortunately can't talk much about this part of the weekend just yet, but I can skirt around specific details to tell ya a little bit about what went down. Like I mentioned in the post right before I left, what we worked on is not a horror screenplay, though it is made for horror fans more than it is for anyone else. That's about all I can offer in terms of plot at the moment. As far as how the writing sessions went, i'm feeling really good about things. While I was incredibly excited about the script idea when I came up with it, an excitement that increased tenfold when Zach and Kristy dug it and hopped on board with me, I can barely contain that excitement now that we've fleshed out the story and a solid structure for where we want to go with it. My two partners in crime brought elements and ideas to the table that really brought my original concept to life and I honestly cannot wait to see where it goes from here. What we've got on our hands is a pretty meaningful and beautiful love letter to the horror genre, while still remaining appealing to those who may not be horror fans, which makes me very very happy. We each brought something different to the proceedings and ended up working like a well oiled porn watching machine, making us all wonder if maybe we were brought into each others lives to do exactly what we spent our time doing over the course of last weekend. I can't thank those two enough for continually inspiring and motivating me to do the things I want to do with my life. So much more i'd like to tell you guys about all this, but it'll have to wait for now!

So what else did we do in Rochester, other than write? Here are a couple little tidbits!

First off, I just want to say that I totally overestimated the Greyhound form of travel, which is how we went from NYC to Rochester. I had never been on a Greyhound bus in my life and for whatever reason, I was under the impression that plush comfortable seats came along with my $116 roundtrip ticket. I even wondered if there would be sexy ladies walking around with drink carts, selling me the little bottles of booze you're served on airplanes. I guess I don't get out too much, because these assumptions couldn't have been further from the truth. Not only are the barely padded seats uncomfortable to the point that you can't find a single comfortable ass cheek position on them, but our Greyhound was armed to the teeth with the kinds of folks you don't exactly want to be tightly packed into a hot and sweaty metal box with. Believe it or not, we even picked up a prostitute at one point, a career choice she revealed through several obscenely loud phone calls where she detailed her hours of neverending sex with a soldier just back from Iraq. On the other end of the bus was a guy who gave a good two hour lecture to another passenger, filling him with all kinds of (at times incredibly smart and at times incredibly idiotic) wisdom about life and how to get ahead. Folks, if you ever want to get famous, "sell your butthole .... REAL CHEAP!" Though the ride was far from comfortable, I will say that the colorful personalities did end up making it a little more tolerable. That being said, I now have a better understanding of why that dude a couple years back lost his shit and got all decapitation happy during a Greyhound trip ...

Our first stop in Rochester was a little burrito place called Sol Burrito, which won me over immediately by a sign at the counter that used a picture of Leatherface holding a chainsaw in order to convey that burritos could be cut in half per customer request. It further won me over shortly thereafter by presenting me with a burrito to die for, half of which ended up dangling off my beard. Burritos are never easy to eat when you've got a beard, but I simply can't live without them.

After a trip to a fabulous place called Record Archive, a store stocked wall to wall with cheap records, DVD's (including a $5 copy of the out of print original Gate DVD release!) and even VHS tapes, we stocked up on beer at Wegmans (<3) and then headed into nerd paradise AKA Kristy's apartment, where we spent the rest of the night writing, eating a delicious home cooked meal courtesy of Zach and then turning in for the night to catch up on all the sleep that the Greyhound viciously robbed us of.

Friday we went to Dinosaur BBQ for lunch, where we met up with Fright Rags' Ben Scrivens and Tim Kilmer - two of the nicest people a man could ever hope to eat delicious BBQ with. This place was off the charts good, well worth the unavoidable long wait time that seems to always be present at its doors. Also joining us for the meal was Laurie Pizzi, who runs the kickass shop Knit Terrors. This was my first time meeting Laurie and I definitely hope to hang out with her more in the future. If you haven't yet checked out Laurie's knit creations, I urge you to click that link above and do so! So glad we got a chance to hang out with all those folks during the trip, even if our times together were short lived. Ben, thanks so much once again for lunch. Shots are on me at Mania!

After lunch we hit up Kristy and Laurie's favorite porn shop, where we scrounged around the $5 bin, stuck our fingers through holes in fuck toy packaging to touch rubber labias and discovered that Psycho, Saw, Silence of the Lambs and Friday The 13th have all recently been given the porn treatment. If these "legit movies" weren't so goddamned expensive ($40 & upwards!), I probably would've ended up coming home with more than merely a $5 copy of "What The Fuck Is That?", a 6 hour compilation of women with highly disturbing looking nether regions. Oh well, at least it wasn't previously viewed ...

After splitting ways with Laurie, who surely had to go knit some more awesome creations (feel free to bring me a Victor Crowley Knit Terror at Monster Mania!), Kristy took us to Beers of the World, an enormous building that lives up to its name. Never in my life have I seen such a diverse and massive collection of beers, beers literally from all around the world. As awesome as it was to be in there, I couldn't help but feel a little bit sad that I don't have a place like that near me. Ended up walking out with a bottle of Rogue's 'Santa's Private Reserve' and Sierra Nevada's 'Bigfoot Ale'. Beers of the World, you are really doing a kickass job of convincing me to move to Rochester. We will meet again someday real soon.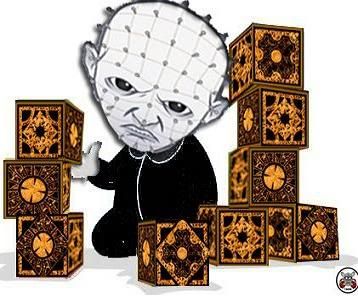 Did some more writing at Kristy's apartment and then grabbed some chinese for dinner with Chris Tanski, who I first met last year during my debut trip to Rochester. Tanski is a really cool guy who recently started a series called 'Boogey Babies' (as in, 'before they were Boogeymen they were Boogey Babies'), humorous depictions of horror villains as they might have been as innocent little infants; as seen above. I don't remember what the Chinese place was called but it was pretty tasty and the cheap beers didn't hurt ... and probably contributed to me not remembering the name of the place. Afterwards we grabbed some custard (AKA soft serve ice cream) for dessert, which Kristy insisted we eat in the freezing cold outdoors, a judgement that was fortunately overturned before our fingers blackened and crumbled off. Bellies more than full, it was back to writing and fucking around on the computer. This is about the time that I introduced Kristy to porn bloopers, which she quickly developed an immense fascination over. Zach humorously wondered if the Coen Brothers watch porn bloopers when they write ...

Most of Saturday was spent at the Fright Rags offices, an incredibly inspiring place to write and an awesome place to hang out and watch movies. Got a peek at the new posters Fright Rags just put out over the weekend (check 'em out!) and spent at least an hour wandering around the place in awe of all the cool shit that's packed into it. If heaven exists, it surely looks a little something like the Fright Rags offices. Aside from brainstorming ideas, we watched Best Worst Movie, which gets better and better everytime, and then filmed Kristy's Kickstarter video for her upcoming Popcorn DVD re-release project. I know i've already talked about that before but in case you don't know what i'm talking about, Kristy is working on a special feature packed DVD re-release of the cult horror flick Popcorn, which she will be shooting a retrospective documentary for. In an effort to raise the minimal amount of funds needed to get the project more off the ground than it already is, she will be launching a Kickstarter fund sometime really soon, the video for which Zach filmed on Saturday. Kristy totally rocked it and I have no doubt that the project will get the funding needed. Once that goes live on Kickstarter, i'll be sure to let you guys know about it. In the meantime, head over to the recently launched website for the project, which you can show your support by following and keeping up to date on! Suffice to say, many awesome treats await those who donate to the cause.

After a final meal together (Taco Bell) and another umcomfortable 7 hours in an uncomfortable bus, it was back home for myself and Zach. All in all it was a highly productive and fun trip, where we managed to not only get a lot done but also set aside a good amount of time for fun and leisure. The basic skeletal system of our movie established, something that could only have been done through the three of us being physically in the same room, we now embark on our journey to get this thing fully fleshed out and finished, the majority of which we will do from our individual homes. As soon as I can provide any more details on the whole thing, you can bet your ass that I will. For now, i'll leave you off on this note regarding the project :

If all goes as planned, things really begin to take shape later this year ...