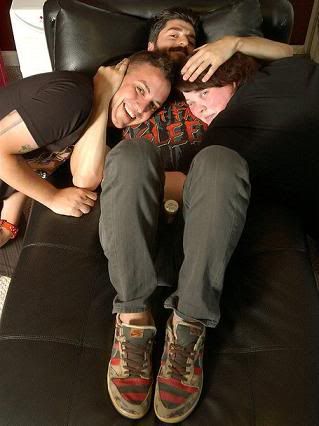 Though I should probably be sleeping right about now, I just wanted to make a quick post to let you guys know that i'll be away until Sunday afternoon and thus, won't be doing any posting around these parts for the next couple days (feel free to use that time to catch up on stuff from the archives!). Bright and early at 4am tommorow morning I hop onto a train into the city, where I will meet up with Z For Zombies' Zach Shildwachter and then hop onto a Greyound with him. A good 7 hours later, we will arrive in Rochester, NY at the apartment of Ms. Kristy Jett, wherein another epic adventure will take place for the three of us. But this time, it's not all leisure ...

The reason for this trip is that we've decided it's high time to do what all three of us have a strong desire to do; write a movie. And that's exactly what we're going to do. We're going to lock ourselves away in Kristy's apartment for the weekend and bang out a script, or as much of a script as we can possibly bang out in just a few short days. I obviously can't spill all the beans as to what the movie we're writing is about, but I will say that while it's not a horror film, it's one that I think horror fans will dig a whole lot (should it ever actually get sold). Truth be told, regardless of if it ever gets sold or not, I feel like this is going to be a great experience for the three of us, one that will both educate us and give us the inspiration we need to tackle our lifes dreams. Though each of us writes about other peoples movies on a daily basis, I think I speak for all of us when I say that our real dreams are to write our own stuff, which will hopefully be someday talked about (and hopefully not too torn apart) by the bloggers that come in our wake.

So that's what we're setting out to do this weekend and I have full faith in what the three of us can accomplish together, especially considering this story idea is something that really speaks to us and our friendship. I will of course report back after the weekend with a little bit about the trip, though don't expect me to spill any story details at that time either! In due time ....

Oh and did I mention that Kristy officially launched the website for the Popcorn DVD re-release she's working on bringing to us all next year? Well she did and we'll be filming the Kickstarter pitch video in between writing sessions this weekend. Check out the site and support the cause!

And no, that's not an orb on my crotch ... it's a bottle of Hypnocil!