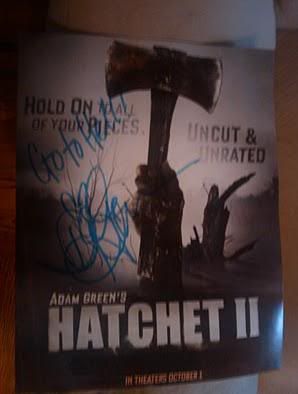 Back when Hatchet 2 was released in theatres, the always generous Mike D. of Cultural Compulsive Disorder fame met Danielle Harris at Planet Hollywood and got her to sign several Hatchet 2 mini posters, one of which he had personalized to me and another he sent my way to give away to one of you guys ... which I of course did. Well, I got an e-mail from Mike a couple days back informing me that he's got another one of those signed posters laying around and he felt there was nobody he wanted to have it more than a reader of this here blog. Yes, Mike has once again generously donated a Hatchet 2 mini poster, signed by Danielle Harris herself, for a giveaway right here on Freddy In Space! How cool is that?!

To enter, first show your appreciation by heading over to Cultural Compulsive Disorder. Once you've browsed around his awesome pop culture infused site a bit, go ahead and leave me a comment on this post with the name of any one of Mike's post headlines from the history of his blog. Please also include your e-mail address so I can contact you if you win. Giveaway is open to everyone and will run through next Sunday, February 13th.

Thank you so much once again Mike. If any of you guys have yet to pick up Hatchet 2, I cannot urge you enough to get on that. I just watched it yesterday for the first time since seeing it in the theatre and I still find it to be a superior film to the first, which is saying a lot given how much I love that film. Anyways, good luck to all!