Came home from my weekend in Rochester yesterday (full recap tommorow!) to several packages waiting for me in my office, two of which were incredible gifts given to me by two awesome friends i've made through this whole blogging journey that I began a couple years back. I've always said that the most satisfying thing that has come of my blogging career are all the friendships i've made through doing it and when I say that, I completely mean it. My readers and horror community friends are some of the most genuine and kind people i've met in my entire life. If I haven't already proven that to you before, I think this post oughta make you realize that.

A couple weeks back I made a post about cool promotional items made to promote horror movies and in it I featured a stick of lip balm made to promote one of the best horror flicks of last year, Adam Green's Frozen. I had only seen a picture of the chapstick online and had never seen one in person or even heard about it aside from that one picture popping up online, so I honestly thought i'd never have one. In fact, I wasn't even 100% sure it was real. When I opened up a package from the man behind Hayes Hudson's House of Horror yesterday, my jaw nearly hit the floor ...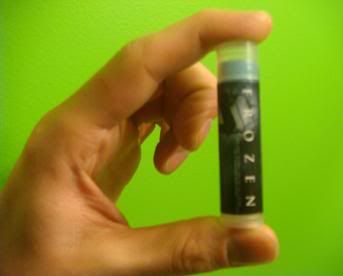 !!!!

Apparently Anchor Bay was handing these out at Texas Frightmare Weekend last year and Hayes snatched one up. Upon seeing it featured on my blog and realizing I hardcore wanted it, he decided to send it my way. How awesome is that?!

Dustin Sain is another kickass dude who has been a loyal reader of mine for quite some time now, always dropping me e-mails informing me of cool horror related shit he finds on the web, several tidbits of which I have utilized for blog posts - hell, Dustin even has his own tag on here! He e-mailed me a couple weeks back telling me he bought me an art print of the General Mills Monster Cereals, which arrived in my mailbox this past weekend.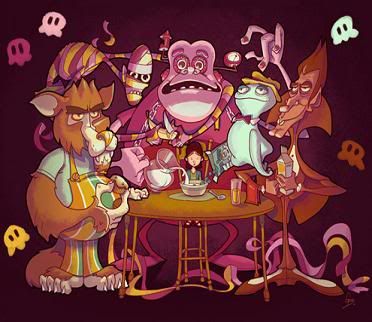 As if that wasn't awesome enough, Dustin also surprised the living hell out of me by including another print, one he had his friend custom make for him. HorrorHound Magazine had a special issue sometime last year talking about the top horror films of the decade, every film of which was depicted in an incredible piece of art that was featured in the magazine (done by Nathan Thomas Milliner). I immediately knew I had to have the piece blown up to be hung on my wall, though I really never thought it'd be possible. Thanks to Dustin, it's now one of the coolest things on my wall ...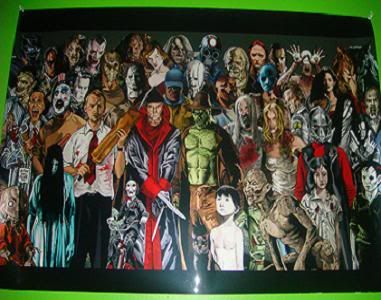 The quality is amazing and i'm really not even sure how it was done, but I do know that only a few of these were made by Dustin's friend and i'm totally in awe that he parted with one so that I could have it. The picture above does the piece absolutely zero justice, but it's the best I could do. The print is 31x20" and is absolutely stunning in person. Gonna get a frame worthy of holding it real soon.

Hayes and Dustin, thank you guys from the bottom of my heart. I owe you both big time!