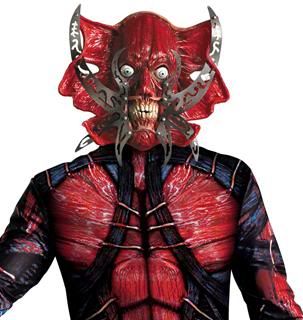 I don't know if you guys saw this anywhere on the web, but earlier in the week three new Cenobites were quietly unleashed upon the world, in the form of brand new Halloween costumes Clive Barker and Disguise Costumes worked together to create. Scorn Cenobite, Flay Face Cenobite (above) and Hooker Cenobite have now joined the illustrious ranks of folks like Butterball, Chatterer, The Wire Twins and of course, Pinhead. My gears started turning once I saw pictures of these costumes and I soon thereafter conceived the Create a Cenobite Challenge, a contest wherein you guys and gals dream up your own Cenobite creatures, with my favorite pick winning some sort of prize. All well and good, but I didn't have a prize in mind, which put this post on the backburner for the past couple days. And then I realized something ... Pinhead himself, Doug Bradley, was just recently added to the Monster Mania Convention taking place next weekend. I'm going to be at this convention. Cue the lightbulb over my head.

So here's what we're gonna do. Over the course of the next week, I will give you all the opportunity to bring your own Cenobite to life, a contest limited only by your imagination. Either simply describe the creature to me or draw a picture of it, as long as you clearly convey your vision to me then I don't really care how ya go about it. If you'd like to include a backstory, like most Cenobites have been given over the course of the franchise, feel free. The only rule I ask is that you provide a name for your Cenobite. Other than that, the sky's the limit. Be creative and have fun!

So how do Doug Bradley and Monster Mania fit into all of this? Well, the winner of the contest will receive a personalized autograph from Bradley, which will be purchased by me at next weekend's Monster Mania. That's right, your winning Create a Cenobite entry will nab you a signed picture from the lead Cenobite, addressed directly to YOU ("To _____, See You In Hell - Doug Bradley")! Sound good? Then all you've got to do to enter is drop me an e-mail at MORTIS45@AOL.COM with the subject "Cenobite" and the name and visual/textual depiction of your Cenobite creation, along with your full name and address. All entries will also be published on the blog after that weekend so whether ya win or not, your creative vision will be set free from the bowels of hell!

Deadline for entries is Thursday, March 10th at midnight and the contest is open to everyone.