Minus a few exceptions over the years, I don't think anyone will argue that Ghost House Underground (a home video extension of Sam Raimi's Ghost House Pictures) isn't exactly a label that is known for consistently releasing quality horror films. Perhaps that reputation explains their dwindling number of releases with each passing year. Kicking off with an eight film release in '08, we got half that many the following year and after a whole nother year off in 2010, a measely two Ghost House flicks hit DVD a couple weeks back; Psych:9 and the film I just watched and am here to give my brief thoughts on tonight, Stag Night.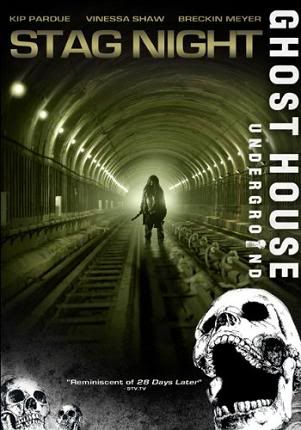 RELEASED FEBRUARY 15TH ON DVD & BLU-RAY!

Next time they'll take a taxi; this is the lesson learned by a group of New Yorkers who, fresh on the heels of a bachelor party, hop on the subway so that they can continue to celebrate. The night quickly goes south, however, when the gang witnesses the murder of a transit cop in an abandoned subway station. Now, they must traverse the underground tunnels on foot to escape the killers.

If The Descent and Midnight Meat Train had a baby and it was deprived of some serious oxygen in the womb, coming out lacking in both the style, substance and talent of its parents, it would probably look a lot like the movie I just got done watching.

Cliche characters in cliche situations meet cliche Rob Zombie lookin' cannibalistic villains in Stag Night, a film that fires lameness on all cylinders and would only have a shred of originality in it if no other horror film in the history of cinema had ever come before it. As so many of those horror film that have come before it have shown us, if you just aren't fed any reason to care about any of the characters, everything that happens to them in their horrific situation is utterly boring and pointless. That is, of course, unless their death scenes are so gleefully over the top gory that the film can coast by on gore and gore alone. Unfortunately for Stag Night, not only do we not care, but there aint much impressive gore to keep our minds off the lack of story, originality and, well, the lack of just about everything else.

I know that a movie has absolutely nothing going for it (not even on the much more respectable so bad it's charming front) when I really don't have much to say when reviewing it. With this one, i'm already all outta words.

All Stag Night manages to accomplish is further drive home the point that if you see a DVD on the shelf with the Ghost House Underground label slapped on it, you oughta look elsewhere for your night's entertainment.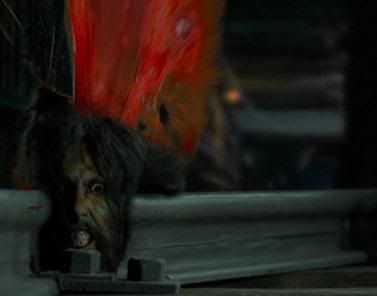 ... though I do give it at least half a point for its clever use of a railroad track switcher, which made for just about the only redeeming scene in the whole movie.