Back in December of last year I made a post about a coffee table book called Cereal Killers that I was very bummed about never coming to fruition. The book was to feature horror inspired faux cereal box art and though many images from the book were released, the book itself for whatever reason never made its way to print. Cut to a few months later. To my surprise, I catch wind of a new series of trading cards set to debut this Spring, which are titled Cereal Killers and feature - you guessed it - horror themed spoof cereal box art! I'm honestly not sure if there's any connection between the failed book and the card series or if the same people are involved, but I couldn't be happier that something like this is finally coming to life.

In the vein of the Wacky Packages cards I used to love as a kid, check out the first peeks at the upcoming Cereal Killers trading cards!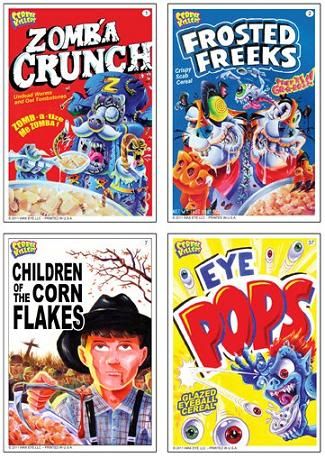 Put out by Wax Eye, Cereal Killers are set to be available for sale sometime this month. Bookmark Wax Eye and follow the project on Facebook to stay in the know!

Now excuse me while I go enjoy a delicious bowl of Exorcrisps ...