A couple weeks ago I had mentioned that I would soon be opening up a shop through the Freddy In Space Facebook page, which is something i've been very excited about these last several weeks. This is something i've wanted to do for a long time and when I recently found out that Facebook has a shop feature, in a free of charge and easy to use format, I knew it was time to put things into motion. The idea behind the shop? Not to sell things to you that you can find a million other places, but instead to present you with kickass and totally unique items that your eyes have most likely never gazed upon. This blog has always had a strong focus on inroducing you folks to such items, so this just seems like a natural extension of the blog to me. Believe me when I say that none of this is about making money, but rather getting cool stuff into your hands (for as cheap as possible) and getting the work of others out there in the world. Any money made from the shop will be re-invested into getting new product. So the more that sells, the more cool shit you will see in the shop. Simple as that.

The first couple items in the shop were chosen because they represent precisely my goal with this whole venture. They're little handmade horror director dolls that I discovered at Monster Mania last month, which I personally loved and bought for myself at that convention. I contacted the artist, Bob Dix, shortly after coming home from the con and asked him if he'd be up for selling me a bunch to stock in my shop. Even though he had to make each one by hand, Bob was more than happy to do it and he whipped them out pretty damn quick to boot. Before I go on any further, check out the first two of Bob's horror director dolls in the shop; George Romero and Alfred Hitchcock!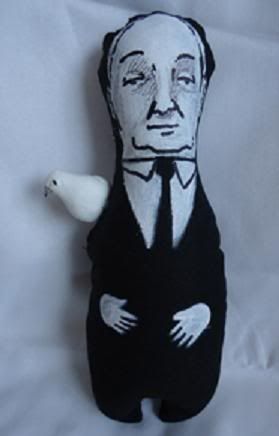 Again, these are entirely hand sewn and hand painted by Bob, making each one totally one of a kind and unique. This is what the shop's all about; cool and creative stuff that you literally cannot find anywhere else and which I can personally endorse and vouch for the quality of. In fact, outside of the convention circuit, the Freddy In Space Facebook shop is as of the time of writing this the only place in the world to get your hands on these. I've currently got five of each, at a price of 25 bucks a piece, and I can't guarantee that they will be restocked once they sell out, so grab one up if ya want one and keep an eye out for more horror director dolls in the future!

To enter the Facebook shop, head over to the Freddy In Space Facebook page and click the SHOP tab on your left! Or simply go to the shop directly!

Huge thanks to Bob for coming through with these and for giving me the exclusive on 'em. Check out Bob's art over on his official website!