I always love to see the horror genre marketed to a younger crowd, which is why I was incredibly excited to be introduced to Monster High the other day, a line of dolls that are billed as being the children of some of the most iconic horror monsters of all time. Jen's family gave her one for her birthday and I can't lie, I secretly wanted to rip it open and keep it for myself. Whereas the Living Dead Dolls are more for an adult audience, the Monster High line encourages a younger crowd to get in on the fun, be it by playing with little monster spawns, putting pink extensions in their hair, or even rolling on faux tattoos - yes, Monster High released a tattoo roller for kids ... you just gotta love it. Best of all, these aren't just some underground thing, they're actually put out by Mattel, the same company that produces Barbie dolls! Check out some of the super cool dolls and products they've released thus far, which I have a feeling some of you guys and gals reading this will soon find strewn about your kid's bedrooms ... or your own!



Frankie Stein, love child of Frankenstein's Monster and The Bride of Frankenstein. Frankie has a pet dog that is comprised of all of the stitched together parts of other household pets. Her biggest pet peeve? Her father insists on shouting "It's Alive!!" everytime she walks downstairs in the morning. This is the one Jen got for her birthday and she's definitely the coolest of them all (that is, until they release a doll for Mikayla Myers, the daughter of Michael Myers). I gotta say though, i'm slightly disturbed by the description of her least favorite school subject that appears on the back of the box; "Swimming. I tend to short out and say silly things when I get wet." I think her and Jen have a lot in common and thus, will get along quite well.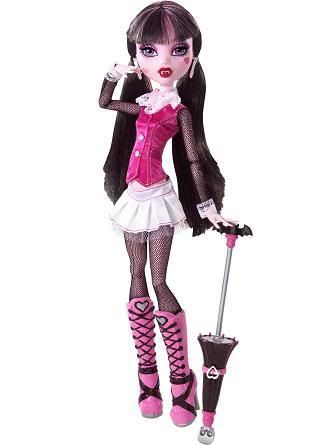 This is Draculaura, daughter of Dracula. In a sad twist of fate, this vamp is allergic to blood and instead follows a strict vegan lifestyle.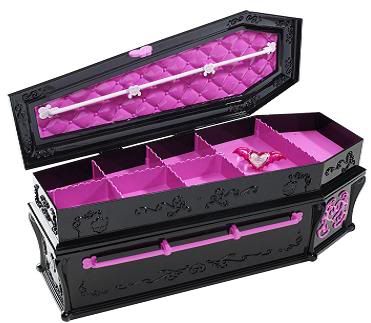 Draculaura's coffin; a bed for her and a jewelry box for her owner. Frankie Stein has a similar accessory, a bed modeled to look like the lab table that her father was created on, which doubles as a mirror.



This is the tattoo roller I was talking about. Might as well get 'em started early!



All the girl's pets were released seperately as 'Electrocuties'. When you push a button on their head, their whole skeleton lights up for a spectacular viewing!

Though they've only been around since last Summer, the line has already spawned a music video, books, a web series and a TV special, and is currently on the fast track to be turned into a live action musical movie. Head over to Monster High for all kinds of interactive fun and to learn more!