Though you can almost always cut the awkwardness with a knife, I absolutely love going to yard sales. You just never know what you're gonna find and though you mostly only find other people's dirty and used crap, there are always exceptions. Case in point, a couple years back there was a yard sale right down the road from me that was being run by a woman who had previously owned a video shop ... a video shop with a MASSIVE horror VHS selection. She was selling all the tapes for $1 a piece and I spent a good portion of that weekend over there, rifling through hundreds upon hundreds of tapes including rare stuff like The Town That Dreaded Sundown (which I later sold for $25 when I was strapped for cash). Needless to say, it was awesome and I came away from that weekend with a plethora of goodies. Pretty much every weekend of every summer since then I try and pass that house to see if another yard sale is going on, but to no avail thus far. That being said, i've come to find out that the woman running the yard sale is actually the mother of my parents' next door neighbor, who we kinda know. Next time I see her i'm definitely going to ask if her mom still has any tapes and if she'd let me stop by and take a peek.

In any event, I have one cool yard sale find to show off from this past weekend's scavenging. Behold, one of the old school Kenner Aliens figures of none other than Lt. Ripley!




Scored this for five bucks, though the old dude selling it was originally looking for $10 for it. I talked him down to six and then decided to bargain with him even more to get it down to five. At first he refused and then he broke down and proposed we compete in some kind of game of chance. If I won, he'd sell it to me for five. If I lost, the price would remain six dollars ... truth be told, I still probably would've bought it either way. I suggested we play rock, paper, scissors and I wiped the floor with him the first two rounds, allowing me to walk away with the figure for a mere five smackers. Go me! The package is pretty beat up and i'm aware that I could probably get a mint condition one for a similar price online, but seeing something like this at a yard sale is just something I can't walk away from.

I just love these old school figures and still find it so fascinating that big name toy companies back in the day actually made action figures based on horror movies. Yes, there are a lot more horror movie figures made these days, but they're always by specialty companies that were created specifically to make genre figures. The fact that a company like Kenner was whipping out Aliens figures is just so cool to me and it really goes to show a serious lack of iconic characters in the more recent days of horror films. Where have all the cool monsters and action figure worthy movies gone?!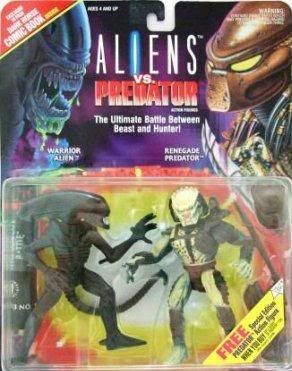 By the way, did you know that Kenner released Alien vs Predator figure two packs way back in 1993, over a decade before the movie ever came to fruition? How cool is that!?