Just a quick reminder that you only have through this Wednesday to enter to win a full uncut sheet of the entire first series of Wax Eye's Cereal Killers trading cards. All you've gotta do is leave a quick comment and you're entered! So ...

ENTER NOW!!

Want to also mention that the kind folks over at Wax Eye sent me a three pack set of the cards, which has made me totally fall even more in love with them than I was before I actually had the chance to get my grubby little mitts on them. Though the giveaway is of course for a full uncut sheet of these, I want to give you a little idea of what to expect when you shell out the $24.95 to get one of these three packs for yourselves!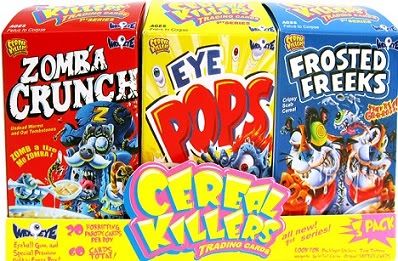 The boxes come packaged in the style of a three pack of actual mini cereal boxes, which is totally awesome. I almost wanted to keep them in the package as is, but I simply couldn't resist bursting the boxes out of their packaging to take a look at the spoof cereal artwork housed inside.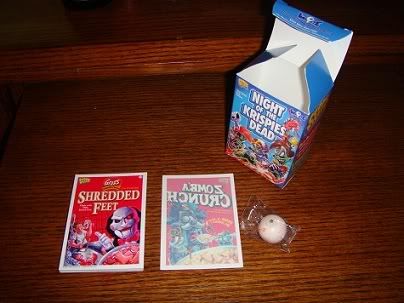 Each box in the three box set comes with 20 cards a piece along with a 'special premium gift', which could be anything from an original artist sketch to a tattoo to a blacklight card. Much like the cards of the 80's, each box also comes with gum, though it's not a hard dried out stick like we're all used to. Going along with the horror theme, each box contains a gumball decorated to look like a bloody eyeball! How cool is that?

Pick up a box for yourself and/or enter this exclusive giveaway while ya still have time!




Cereal Killers rock! And I need to cut my nails ...