When it comes to the world of horror, there are two things that I love perhaps more than anything else; the shirts made by Fright Rags and the films made by Adam Green. When I first heard the news that these two forces were going to ... join forces ... I was beside myself with excitement. A blood soaked marriage of two of my favorite things on this planet ... how often does something so awesome as that actually happen? The thought of Fright Rags and Adam Green working together to make a line of kickass horror shirts gives me what we call in the geek business a nerd boner, a boner so large it has drained the majority of the blood from my (other) head and thus, rendered me quite speechless. The first three shirts from the line debuted on Fright Rags' site last night and though they're shirts most of us have already seen or perhaps even own, they are only the beginning ...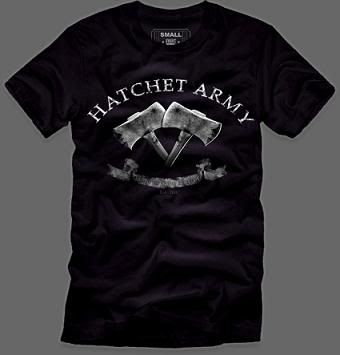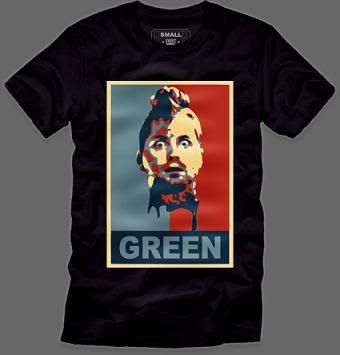 These three shirts were formerly available from the website of Green's production company, Ariescope Pictures, who have inked a deal with Fright Rags for them to now be sold EXCLUSIVELY through them. What's awesome about this is the fact that when they were sold by Ariescope, it took many weeks for orders to be shipped out, being that Ariescope was more equipped for making films then sending out t-shirts. Now that they're being sold by Fright Rags, orders will be sent out in the same timely fashion we've come to expect from them, allowing Adam Green fans much more convenient and fast paced access to them.

But again, these shirts are only the beginning of this marriage, as the two are currently working together to create brand new original art for new shirts based on Green's movies, which will finally give us all the Frozen and Hatchet shirts we've been craving. So get your Hatchet Army, Jack Chop and decapitated Adam Green shirts for $19.95 and be on the lookout for much more Adam Green style fun from Fright Rags in the near future!

Forget William and Kate. This is the motherfuckin' royal wedding!!