You may remember that around this time last year, Jen and I headed out to Rochester to hang out with friends and take part in a little photoshoot for Fright Rags, which eventually ended up landing my hairy mug in an issue of Rue Morgue Magazine that year, when they decided to use the image of me channeling Pennywise The Clown for their ad in the mag. I'll never forget opening up the magazine and seeing my picture in there and I still to this day can't believe that actually happened.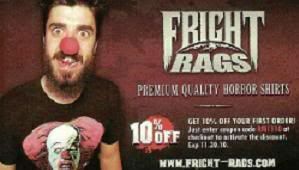 This past weekend, I was once again shocked and excited to discover that another image from the shoot made its way into a popular horror publication, this time in HorrorHound and this time of my better half. Check out Jen modeling Fright Rags' Shining shirt, doing her best Shelley Duvall, in a pretty sizeable ad in HorrorHound #29!!




Too cool. Once again, thank you Ben and the Fright Rags crew for giving us both our little moments in the sun. We love you guys. Someday we will be proudly showing our grandkids these magazines. Hopefully, Fright Rags will have baby onesies by then!

Aside from Jen being in it, this issue of HorrorHound is pretty awesome and you should probably head out and pick it up. Most of the issue is dedicated to a great year in horror history, 1981, and it features terrific cover art by my buddy Joel Robinson and a cool piece on artist Jeff Zornow, written by my girl Kristy Jett. In addition, there's even a pretty big time several page article about Arrow Video, a company often found being pimped here on my blog. This is one issue you won't want to miss ... not that you should ever miss an issue of HorrorHound!