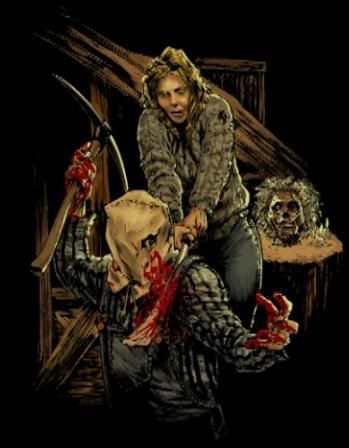 Tommorow being Friday May 13th and all, Fright Rags has decided to do a little something to celebrate. Actually, it's kind of a big something, as they will release not one, not two, but THREE brand new kickass Friday inspired t-shirts. But here's the catch. The three shirts are exclusively being released for Fright Rags newsletter subscribers ONLY and will only be available through Sunday, May 15th. If you're not on the list (by 11pm EST tonight, in fact) then you will not receive the e-mail'ed link to buy the shirts and thus, you will never get the chance to own one ... or two ... or all three. So before we even go on any further ...



SIGN UP FOR THE NEWSLETTER!!

Ok, now that that's done and you've ensured that you won't be left out in the cold on these, here's some more information on the three exclusive shirts!

An e-mail will be sent out around midnight Friday morning, with the super secret linkage where you can buy each or all the shirts for $25.95 a piece. I could show you all of them right here, but what fun is that? Head over to this link to see the shirts and get all the scoop and this one to see a video trailer for the release. The shirts come in limited quantities and are on a first come first served basis and will never be printed again in the future. Again, the sale will end as soon as the clock strikes over to Monday at the end of the weekend and they will not be posted on the main Fright Rags website or anywhere else. So remember ...



SIGN UP FOR THE NEWSLETTER!!

I think that about covers everything. Who plans on placing an order for these come tommorow? Leave a comment and let me know which one(s) you'll be getting!